Live Chat 101:
The Comprehensive Guide
What is live chat? Learn how it works, why it's popular amongst companies, its benefits and what's next for the customer service channel.
Live chat is an online customer service tool that enables customers to speak directly with agents who can deal with queries in real-time. Used by a multitude of businesses, live chat is recognised as one of the more efficient human-operated contact channels. Not only can it facilitate customer service at a fraction of the cost of other agent-assisted channels, but it also supports lead and revenue generation.
Companies use live chat software to offer customer support, drive new business, enhance customer experience and improve operational efficiency.
The way that live chat works is simple. It is a two-way digital conversation that involves 2 parties: the customer and the agent. The customer engages with the application by asking a question, to which the agent replies. This might be the customer's first interaction with a contact channel or they may have been transferred to live chat from a self-service escalation.
The main difference between live chat and other online contact channels is how the results are generated: when it comes to self-service channels, it is AI that retrieves results, whereas in live chat's case it is a human. This makes the contact channel particularly effective in dealing with complicated and non-routine customer queries.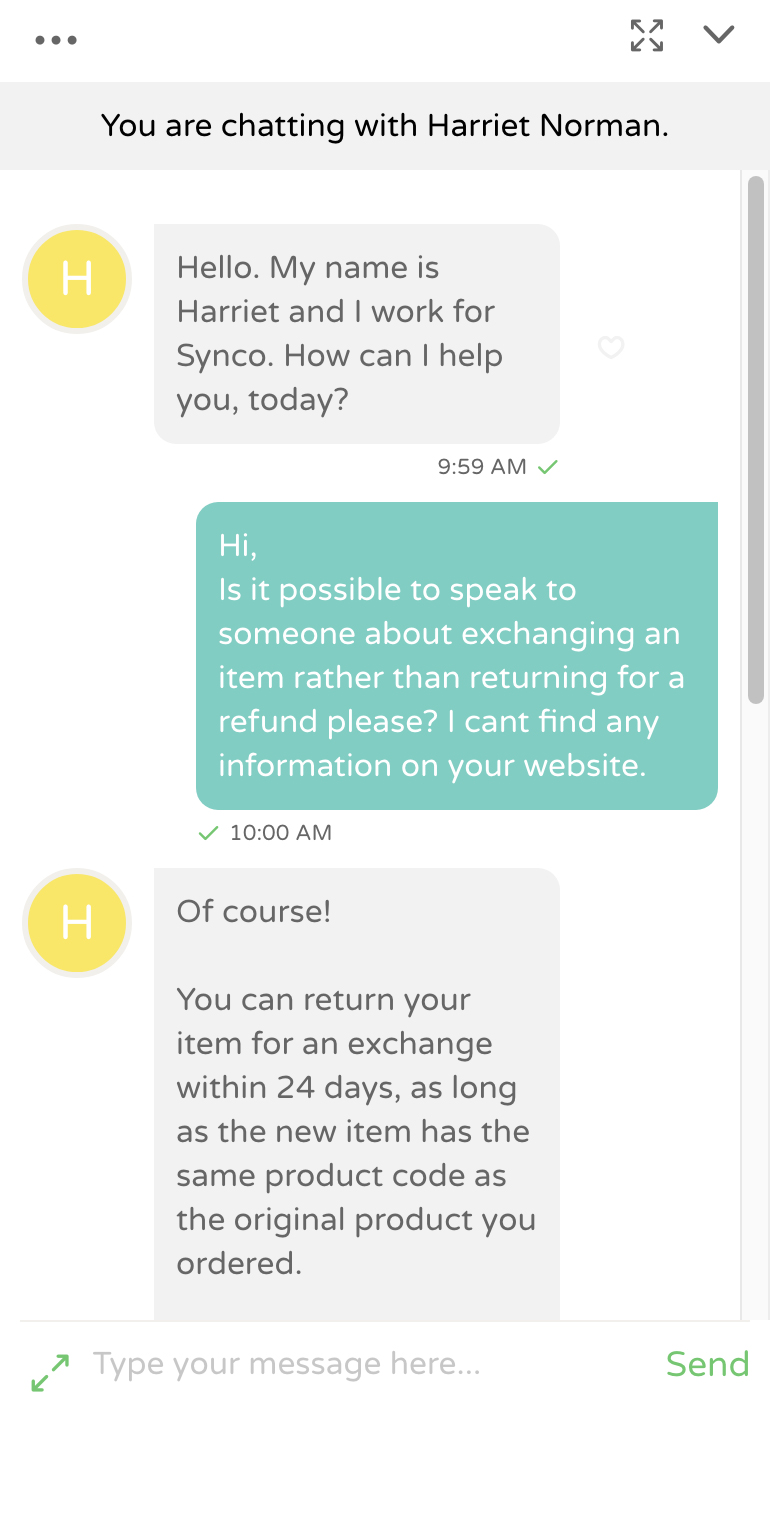 Why Do Companies Use Live Chat?
There are many reasons why companies implement live chat into their offering – this is heavily reliant on individual business goals, for example:
To improve customer service
To enhance CX
To promote lead generation
To boost revenue
79% of businesses say offering live chat has had a positive effect on sales, revenue and customer loyalty.
When it comes to customer service, human to human channels prove costly and whilst many contact queries can be automated, agent-assisted channels remain necessary. Self-service contact channels are useful in dealing with routine questions, however not all queries are standardised and have an answer that can be retrieved by AI. Some are more complex by nature and require subjective, sensitive, human understanding and empathy. This is where live chat is an excellent addition to a company's customer service toolkit.
Live chat is the fastest way for customers to communicate with a company, it enables more issues to be dealt with whilst delivering a personable service and proves particularly valuable for CSAT. One study cited a 73% satisfaction level scored by live chat, making it the highest scoring customer service channel compared with email or phone.
Further, companies recognise the value of investing in live chat channels for customer service when it comes to the bottom line. Other agent-assisted contact channels such as telephone and email are considerably more expensive, they involve many additional operational costs and overheads that can be avoided through using live chat
Companies' Sales and Marketing departments also benefit from deploying on-site live chat solutions. Many live chat applications have lead generation capabilities, not only do they offer data capture options that can automatically pass on data to Sales, but agents can also reach out to site visitors if they fit certain criteria. For instance, if a visitor has spent a particular amount of time on a conversion page after visiting a number of products pages, an agent can choose to engage with the visitor, asking "Is there anything I can help you with". This not only prompts a conversation, encouraging lead gen, but allows the visitor to ask any questions they may have before committing to a sale.
A New Generation of Live Chat
Live chat software has been around since the 1970s with instant chat becoming popular in the 1990s-2000s. But it wasn't until the 2010s when live chat as a functional customer service tool really exploded, finding its feet and commercially, becoming not just sought after but an everyday expectation for customers.
Built-in Machine Learning helps to improve the NLP capabilities of chatbots over time. As a result, the customer simply asks their question in whichever manner they wish, and the NLP algorithms analyse the question in its totality, consulting a company's centralised knowledge base to determine the most relevant information, then responds conversationally. If the query entered is not explicitly clear or the chatbot is not sure on which answer to give, subsequent questions will be asked to help the chatbot determine what the customer requires and thus the intended result. This result will then be stored for future interactions.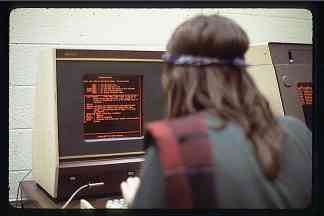 First-generation live chat software, PLATO was used at Illinois University in 1973.
Catalysed into the mainstream by the likes of Facebook Messenger, iMessage and WhatsApp, today live chat is capable of more than just hosting a conversation between friends. In business it can:
Facilitate knowledge sharing across other internal and external applications
Guide a customer through their journey, start to finish
Work with customers' favourite instant messaging apps
Provide additional services that promote efficiency
Effective live chat software should be built using a low code framework, allowing for effortless integrations with your website and the applications your business relies on. It should not require teams of developers to implement, rather your software vendor submits one line of code and you're up and running. A true low code launch should lead to no-code upkeep.
Live chat that offers low code configuration integrates with internal-facing knowledge tools to improve efficiency in the contact centre. The integration allows agents access to thousands of knowledge articles quickly within the same window to provide excellent levels of customer support whilst empowering employees through the tools they use.
Agents can use the same integration to suggest new article ideas or edit existing ones if they have the appropriate permissions. If approved, new knowledge articles are seen by the wider team, equipping them with additional knowledge that could influence important decision making.
It is equally important that low code exists for live chat to seamlessly connect to other self-service tools within your customer service ecosystem. Self-service or chatbots could be where your customers begin their journey, but ultimately they may require agent assistance, thus escalating to live chat. Without low code integrations, customers would not be transferred to live chat – nor would the customer's details or record of queries and questions – making for a poor CX.
Other departments also rely on such integrations with live chat, for instance, Sales and Marketing need chat transcripts, behavioural metrics and other data to automatically populate their CRM and email marketing tools – this is all made possible, seamlessly using low code.
A Holistic customer journey
Today, there is a major disconnect between companies and their customers' expectations – especially when it comes to customer service. To combat this, companies need to understand their customer journey, from its very beginning at search engine query, to its endpoint.
Companies must consider where live chat fits into their overall customer service ecosystem – if it's even included – and if its role is useful. To satisfy all customers' requirements, there needs to be a mixture of contact channels, but having an effective live chat that works well amongst these is really what's key.
Once on your site, most customer journeys will begin by engaging with a self-service channel. It's important that there is a comprehensive connection between such channels and live chat so that escalation, if necessary, can be executed smoothly, avoiding frustration. There is nothing more annoying for a customer than having to click through an additional 5 steps, open up a new window and then wait to be transferred to an agent due to poor channel connectivity.
When a customer's query needs to be escalated live chat's role is fundamental. As a tool, it has the power to:
Convert a sale
Renew a subscription
Resolve a major issue and prevent churn
Facilitate a transaction
All of this is achieved quickly, conveniently and at a fraction of the cost of telephone or email.
Today's growing social media and mobile device usage means that we are communicating with one another through a variety of channels and devices, whether it be Facebook Messenger, SMS or WhatsApp or through our mobiles, tablets or even smartwatches.
Gone are the days that company live chat operates through one single channel. Consumer behaviour has led the way for chat providers to evolve and subsequently has opened up new avenues to which the contact channel can operate through.
Using APIs, companies can group all multichannel chats into one interface. For example, customers can message a company via Facebook Messenger and it will show as a new chat in the same agent console as other chats. When the agent replies to the customer via the internal chat console, it is sent back to the original channel, Facebook Messenger.
The benefits of offering multichannel live chat options are plentiful. For agents, having multichannel chats in one console creates greater control and visibility of conversations, it also increases efficiency and FCR as there is no going back and forth between multiple consoles. For customers, it enables a smooth and convenient conversation to take place via their favourite app, whether they're at the supermarket, at work or home the same level of service is provided. Further, companies gain a competitive advantage over those who do not offer chat solutions through a variety of channels.
Built-in 3rd party functionality
Today, live chat tools include built-in 3rd party functionality that allows companies to do far more online than simply facilitate a conversation. Such integrations enable operational activities to take place via the same chat window, during the same session and are particularly popular due to the role they play in increasing contact centre efficiency.
Identification and Verification (ID&V) software, for example, can be integrated with live chat and is heavily relied upon by companies who wish to handle and discuss personal or account data with a customer in the same window. The integration identifies and verifies customers using secure questions and answers before discussing confidential matters, such as those in banking.
This is especially useful for companies who wish to reduce operational costs by moving such activities online – ID&V automates the 'security question' process, saving agents considerable amounts of time. Enabling such operations to take place in the same window as the original chat also increases the likelihood of completion and contributes to credibility. From a customer's point of view, it's convenient and secure – why wait in line on the phone when you can do it all online?
Further, live chat software supports and facilitates payments through PCI partners. Again, it enables security and privacy through the integration and is far more efficient for the agent and customer opposed to handling such a transaction over the phone.
What Are the Benefits
of Using Live Chat?
Significant Operational Savings
Companies that implement live chat into their customer service offering can benefit from huge operational savings. Due to the variety of customer queries that teams receive, agent-assisted channels must be offered. But compared with other human-operated channels such as telephone and email, live chat is significantly low cost. This is due to the natural efficiencies of live chat: it allows agents to handle multiple customers simultaneously and integrates with your knowledge base to decrease Average Handling Times (AHT). Additionally, the overheads of telephony systems (connection costs, IVR, service charges) are completely avoided.
Live chat allows for greater efficiency than other agent-assisted alternatives. The agent interface enables multiple chats to be answered simultaneously, increasing the rate of queries solved. Telephone and email, on the other hand, can only deal with 1 query at a time, not only does this lead to customers being transferred, waiting on hold or for a reply, but it mean that costs can quickly accumulate.
Further incremental efficiencies are made when using live chat. Some live chat software providers include features such as AI-powered predictive suggestions and live keypress feed which allows for optimal time savings.
AI-powered suggestions is a live chat feature that connects to your knowledge base and by using Natural Language Processing (NLP), generates possible articles based on what the customer is typing. The agent simply selects the adequate article and the knowledge is instantly available, speeding up the chat process and improving First Contact Resolution (FCR).
AI-powered predictive suggestions reduce average chat times by up to 50% vs normal chat systems (Synthetix research).
Further, some live chat solutions include a live keypress feed which allows the agent to preview what a customer is typing before they hit 'send'. As a result, agents can solve a query before it has even been submitted, providing customers with a fast and successful service.
Businesses that include live chat in their customer service offering can benefit from huge CSAT wins. We know that there will be instances where customers require human assistance, but when customers engage with telephone or email channels for support, the result includes waiting in line, on hold or for a reply for hours. This, of course, reflects badly on CSAT scores – no customer wants to wait that long for help with a query. In fact, a study revealed that on average email response time is 17 hours compared to live chat's 2 minutes.
Customers want quick, easy replies and this is what live chat provides them with. They are served real-time answers that, when integrated with a knowledge base are consistent and accurate. This, in turn, minimises Average Handling Times (AHT) and improves First Contact Resolution (FCR) rates which impact positively on CSAT.
There are several reasons that live chat contributes to great CX. For generations that have grown up using instant messaging services, live chat's UX is familiar – the interface and experience are similar to talking to friends – so when these customers engage with live chat for customer service, the result is positive associations and brand loyalty.
When included in a company's overall customer service toolkit, live chat makes for a better, much smoother overall journey. Not only is it available for customers who need agent assistance to resolve an issue, but when configured correctly, live chat is made available mid-journey when necessary. It works like this: A customer needs an issue resolving so engages with a self-service tool, the AI that powers the self-service tool detects that the customer requires agent assistance following a series of questions. The customer is transferred to a live chat agent via the same window for convenience where a human can offer further, subjective help. This smooth transition removes any customer pain points, roadblocks and frustrations, resulting in positive CX.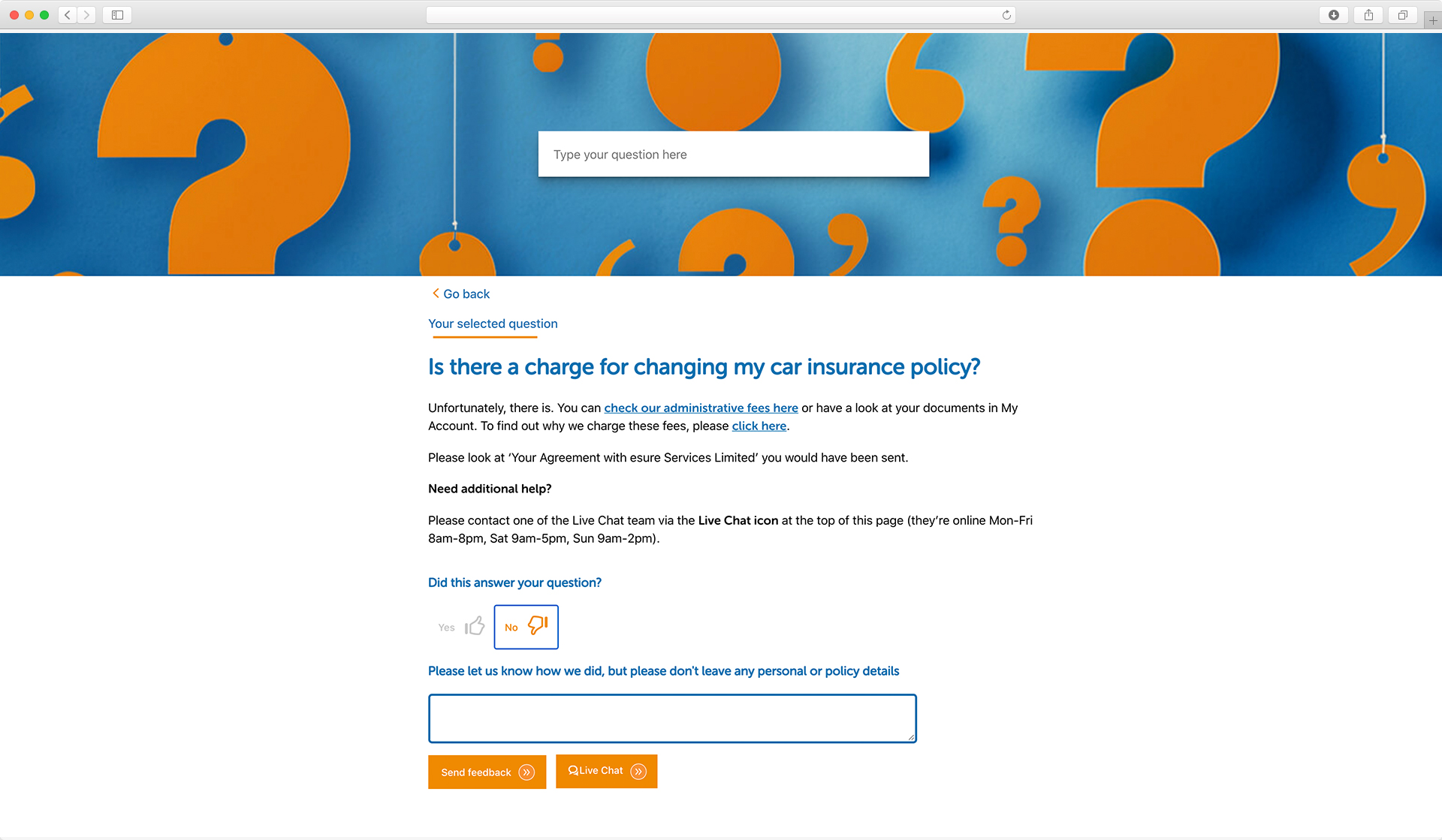 From an agent perspective, live chat is the perfect addition to the contact centre technology stack. It enables employees to be more productive by handling multiple chats at once and can contribute to reaching targets and thus incentives.
For customer service teams and contact centre agents, live chat as a tool is significantly more powerful than telephone or email channels. By connecting with internal knowledge, live chat provides agents access to a library of articles quickly. By equipping agents with features that boost efficiency, such as AI-powered predictive suggestions, mini knowledge and live keypress feed, they are given the capacity to get more done and work with a wider variety of queries – all of this leads to employee empowerment and subsequently, employee satisfaction.
Lead and Revenue Generation
A study by Forrester reported that there was a 10% increase in the average order value when reviewing the sales from customers who engaged in a chat before making a purchase, than those that did not use chat.
Live chat facilitates lead and revenue generation activities via its customer-facing interface. Not only does the software include custom forms that capture data and qualify leads ready for sales to begin nurturing, but some live chat solutions utilise trigger management to encourage additional revenue generation.
Trigger management enables actions to occur when certain conditions are triggered. This can work particularly well in terms of revenue generation. For instance, a Customer Service Manager might configure trigger management settings to present a live chat widget when a user has spent a certain amount of time on a high value product page. The live chat could ask "Need to ask us anything?", increasing the likeliness of a sale in comparison to no live chat prompt.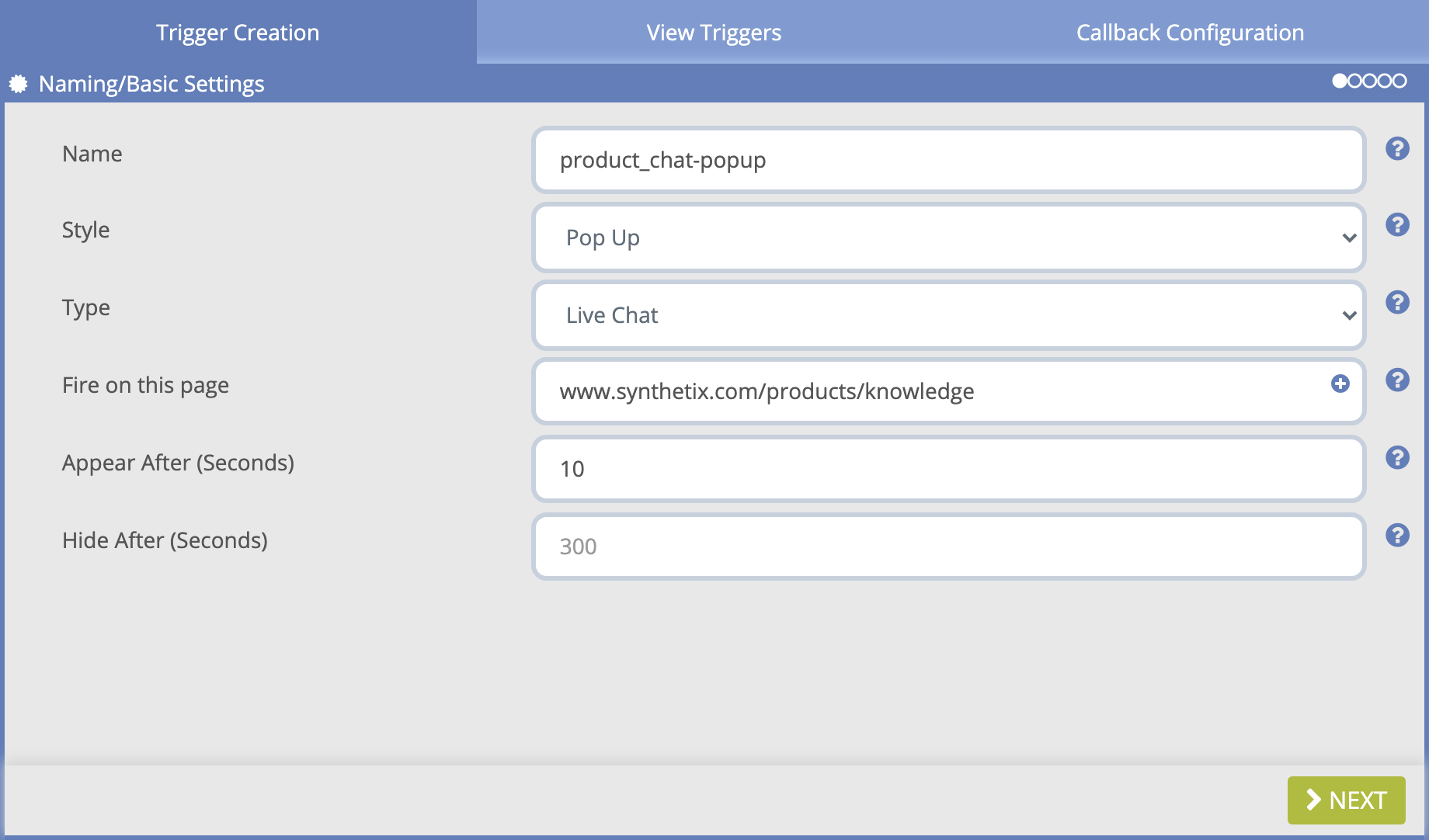 Companies also use trigger management to automatically escalate customers from self-service channels to live chat. Triggers are set up for when certain keywords that signal urgency, such as "cancellation" or "renew" are entered. By giving agents the tools to intervene quickly, customer retention can be assured and revenue generated.
The Global Live Chat Software Market size is expected to reach $987.3 million by 2023, rising at a healthy CAGR of 7.3% during the forecast period – but what can we expect for the future of live chat?
Thanks to constant technological advances and the increasingly high customer expectations in customer service, the future looks bright for live chat. We are likely to see AI utilised more comprehensively to tackle chat wait times: a blend of NLP and sentiment analysis help automatically designate queries to appropriate channels whilst prioritising those that suggest urgency in customers tone or keywords. Such initiatives could drastically cut waiting times, potentially removing them altogether.
The near future might see AR and VR incorporated into the everyday customer journey. With the technologies' adoption becoming more mainstream, it would compliment live chat, working particularly well in instances such as troubleshooting. For example, a customer engages with a live chat agent regarding their broken product and grants video permissions to demonstrate. The agent can then add images to the video to show how to fix the product, explaining each step in real-time. It's such smart technologies that will continue to enhance CX.
But what is most important for upcoming years in customer service is that companies recognise live chat for its true value and invest accordingly. Live chat is a key member of the customer service family, but shouldn't be the only channel that is offered. Not only must it communicate seamlessly with its other self-service and internal-facing family members, but its position amongst them must be carefully considered – this could be the difference between brand loyalty and poor CSAT.
If you enjoyed this article or would like to find out more about live chat and how it could fit into your current offering