Why Live Chat for Customer Support?
Whilst customers now have the capabilities – thanks to technological advances in AI – to solve their own queries online, there will always be instances where some human intervention is required. For instance, users can take advantage of self-service channels such as an FAQ portal, widget or chatbot to solve routine queries using AI, but when it comes to more complex queries that require empathy and emotional understanding, a human is required.
This is where agent-assisted contact channels are necessary. In a world where fast service is now not only expected but is arguably the new norm, waiting in long phone queues or waiting days to hear back from an email enquiry just won't suffice in your customers' eyes. This is why live chat for customer support is so popular, and customers' preferred contact channel – 79% in fact!
Not only does it provide your customers with a smoother, more efficient experience, but for the contact centre, it proves significantly more cost-effective to operate than telephony and email. Telephone agents are limited when it comes to their capacity to handle more than 1 query at a time, but live chat provides agents with the tools to solve multiple queries simultaneously.
Live Chat for Customer Support: What to Consider
So, when it comes to choosing the best live chat for customer support, where do you begin? We have broken it down for you into sections below in your very own checklist
Commercial Considerations
1. Does Live Chat Align with Your Customer Support and Business Goals?
Before considering live chat solutions, it is fundamental that you and your team are clear on the rationale behind why you are acquiring live chat, what it is aiming to solve and that the goals and objectives are measurable.
Then, once you are ready to begin looking for the right solution, you will be able to identify if a solution's capabilities and features match your expectations.
For instance, if your goals surrounded improving NPS or CSAT scores then the capability to escalate and integrate would be a deal-breaker. Or, if you have a small call centre of 15 agents and are looking to reduce contact centre costs whilst maintaining quality customer service, finding a pricing model that works for a team of that size, that is fast to implement and supports remote working is essential.
2. Does the Live Chat Vendor Offer Sufficient Customer Support?
It is also important to discuss with those involved the level of customer support you might require from the live chat vendor. This way you have an expectation in which you can measure against, filtering out those who cannot offer you what you need.
This helps to manage expectations from both sides and prevents any detriments surrounding your live chat tool down the line.
For Your Customers
3. Does the Software Facilitate Escalation from Self-Service to Live Chat?
There a number of ways in which customers can reach your site, whether they are actively looking for help or stumble across a reason to ask a question during their customer journey. In both situations, it is vital that, although they might not require it, escalation from self-service to agent-assisted channels are available.
If a visitor wants to purchase something online or has an issue with an order, they might engage with your chatbot initially but come to realise they need human attention. This is where seamless escalation to live chat – within the same window – is vital. Anything less than this is poor CX.
4. How Quickly Can the Live Chat Solution Be Implemented?
It is vital that before you decide on your live chat vendor that you have discussed implementation timeframes and expectations. Perhaps you want your live chat for customer support up and running as soon as possible, or you have a timeline mapped out already.
Depending on your business requirements, live chat implementation should take a matter of days or weeks and will involve the following steps:
Project kick-off meeting
Design guidelines are discussed
First look designs are shared
Draft integration code is created and sandbox environment access is granted
Design is signed off
Agent training
Testing
Final low-code integration is provided
For more on the stages of live chat implementation, click here.
5. Can the Live Chat Software Integrate With 3rd Party Applications for Optimal CX?
To ensure that your customers' journeys are smooth and that you are always delivering excellent CX, consider your integration needs. Which everyday business tools must your live chat software connect with in order to achieve this?
Perhaps you require an integration that through live chat facilitates:
Identification and verification (ID&V)
Adding and/or updating contacts in your CRM
Adding/removing a contact from a particular mailing list
Producing certain documentation upon customer request
Whatever it may be, ensure the live chat vendor you choose offer open RESTful APIs that enables the simple 2-way sharing of data.
6. Can the Live Chat Reflect Your Brand?
Injecting your customer support tools with your brand personality is key to standing out amongst competitors. Not only is it a free branding opportunity, but it is a great means to portraying your business to the world.
Select a live chat solution that supports customisation. You should be able to customise colour schemes and add logos, as well as configuring canned responses and search layers to include language and quirks that match your brand guidelines.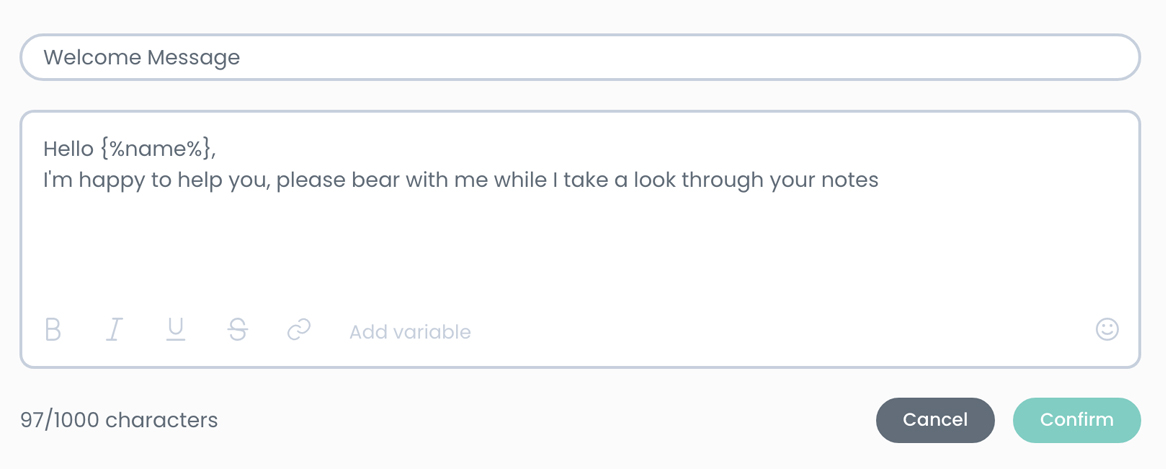 7. Can It Contribute to Lead and Revenue Generation?
Whilst many businesses primarily adopt live chat for customer support purposes, it has the capabilities to support both lead and revenue generation.
Live chat solutions that include custom trigger options help to promote additional revenues and lead generation by proactively offering help during critical customer touchpoints.
Read: Do Live Chat Apps Work For Lead Generation?
You simply configure the conditions in which you'd like live chat to trigger, for example, when a certain amount of time is spent on the cart page and the customer is offered help. This could be the difference between a conversion or cart abandonment.
For Your Team
8. Does Live Chat Utilise Natural Language Processing?
Selecting live chat for customer support that is built on AI and harnesses Natural Language Processing (NLP) promotes contact centre efficiency whilst improving your agents' experience.
Some live chat vendors include an integrated knowledge base within the internal live chat interface. For agents, this means significantly less time is spent searching through resources or asking supervisors for answers. All displayed within the same window, the agent simply begins by typing in the customer's query and the system, analysing each keyword to understand intent, displays relevant articles.
9. Does It Include Features That Promote Agent Productivity?
To boost agent productivity in the contact centre and dramatically improve Average Handling Times (AHT), pick live chat software that includes features such as AI-predictive suggestions and a live keypress feed.
AI-predictive suggestions slash handling times by recommending to your agents relevant articles based on what the customer is typing. This refreshes on every keypress and is displayed in the mini knowledge base panel, all your agents have to do is click to copy the content into their chat.
A live keypress feed similarly helps to speed up the query handling process. It provides your agents with a preview of what the customer is typing so that resolutions can be prepared often before they have submitted their queue.
10. How Easy Is It to Train Your Agents?
When it comes to live chat for customer support, training your agents shouldn't be something you have to worry about. Choose a vendor that provides excellent after-sale care – this should include an account manager training your team in how to use their new live chat tool – from basic functionality to clever tips and tricks.
Don't waste precious time figuring out these things yourselves, ensure experts can demonstrate them for you.
Final Thoughts
Every company's needs will be different when it comes to live chat acquisition, however by sticking to the above checklist and using its answers as a key criterion, finding the best live chat – that utilises AI, supports a suitable pricing model, is implemented quickly and promotes efficiency – is made simple.
---
If you enjoyed this article and would like to find out more about live chat, you can here. Or for help selecting live chat software and advice please