Learn web self-service 101: its importance, benefits and what makes an intelligent self-service solution.
Synthetix have the complete platform of customer service tools.
Book a demo of any of our products below
What Is Web Self-Service?
Web self-service is a means to which a customer can serve themselves online. On your website, self-service products answer customer queries, deliver product and service information and can even talk to your customers to assist them conversationally. Companies use web self-service to bolster their customer service offering and help customers help themselves, improving customer satisfaction (CSAT scores) significantly. This contact channel is favoured for its benefits to support teams and contact centres, with its ability to automate, deflect and escalate queries to a live agent when necessary.
Similar to self-service checkout tills or petrol pumps, web self-service gives the customer the option to handle their own online requirements if that is their preference. Self-service also contributes to operational efficiency, the 'do it yourself' option allows customers to work on their own terms and this usually means quicker than waiting in line to be served by an employee. 
So, how does it work?
For companies to be able to benefit from web self-service, they must first have a company knowledge base, which is their centralised library of knowledge containing everything that involves:
Customers – from returns policies to simple product troubleshooting
Employees – from company handbooks to agent scripting 
A knowledge base and its contents are organised into different views to suit the needs of different users. For example a public view would be suitable for customers, whilst a restricted view would be created for internal purposes. A knowledge base can store thousands of pieces of knowledge that are helpful to customers. Known as knowledge articles, they are written in a question and answer format which assists the way customers eventually access this knowledge.
So, how do customers gain access to this knowledge?
Web self-service software integrates with your company knowledge base in order to serve customers the best, most relevant results quickly. Built on AI and through harnessing Natural Language Processing (NLP), sophisticated algorithms unpick each customer query, analysing each component until intent is understood. 
By simply typing their query into the search bar, NLP carefully examines each keyword, search intent, grammar and popularity to produce only the most relevant results. 
Because the answers served to customers through self-service systems are sourced from the same centralised knowledge base that agents refer to when dealing with customers, you can ensure that information is always accurate and consistent. 
Web self-service can be displayed as a library on its own page, a floating widget or a chatbot prompted to appear when certain conditions are met through trigger management.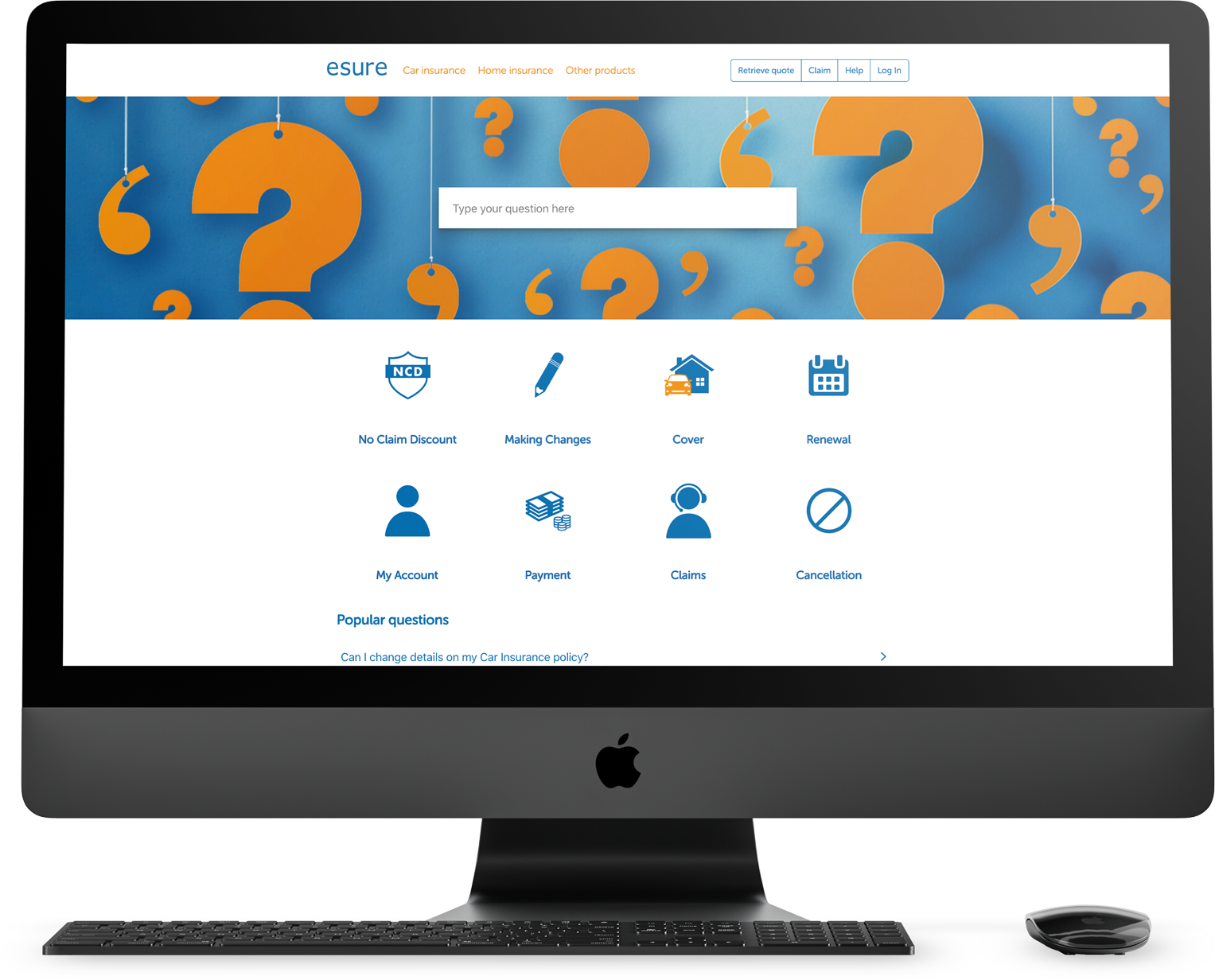 Why Do Companies Use Web Self-Service?
Web self-service provides numerous benefits for organisations with large and small customer service teams. It boosts CSAT while hugely increasing efficiency, automating a huge proportion of routine enquiries and when there is an issue too complex to handle via a self-service channel, these tools know when it is appropriate to escalate to a live agent. The need for this increased efficiency is growing over time, the multitude of different ways your customers can purchase from you, paired with increasingly high expectations mean contact volumes are increasing daily. Now throw external strains such as the shift to online channels into the mix along with temporary challenges like COVID-19 and companies can experience up to a 1000% increase in customer service traffic, according to a recent study by Gartner. The same study reported that one company had seen a 60% increase in telephone traffic.
The result of such external pressure means that support teams simply cannot adequately serve all queries, lowering both quality and quantity. Under these circumstances is when self-service software become valuable to businesses and particularly support teams, the software is able to automate these routine queries and encourage customers to use the channel, therefore mitigating inbound contact levels.
The deployment of web self-service during busy periods can also help customer service teams dedicate more time to non-standard questions and complex customer issues that require human understanding to be resolved. This allows agents to solve issues quicker and make customers on the whole much happier, boosting CSAT scores, NPS and customer loyalty.
Decades of digitisation have led to an evolution in online customer behaviour and expectations. Not only are digital channels favoured over brick-and-mortar establishments when it comes to customer service, but a large proportion of customers prefer the 'do it yourself option'. Web self-service allows customers to troubleshoot, research and resolve, all in a DIY fashion – in fact a recent study revealed that 67% of respondents prefer to use self-service over speaking to a company representative whilst 88% expect self-service to be offered. Relying purely on self-service is not wise, as you will always have a small percentage of customers who require human intervention, so it is important you have a multiplicity of contact channels that are integrated to ensure seamless escalations.
Furthermore, Millennials and Gen Z, who show the strongest preference for self-service, will soon make up the majority of the consumer population. It is therefore important that customer service teams consider the contact preferences of this shifting demographic – which happens to fall into the self-service category. Comfortable with the digital world, these groups prefer to interact online with self-service solutions rather than over the phone – up to 75% in fact. Accounting for a huge chunk of their customer bases, companies are simply responding to what these generation groups want, which includes self-servi
Benefits of Web Self-Service
Contact Centre Efficiency
A major benefit of web self-service deployment includes operational efficiency, which in turn can result in a reduction of operational costs. Here's how:
Web self-service's capability to automate 20% of routine queries online leads to a reduction in contact centre costs and operational overheads. As significantly fewer queries reach the contact centre, the requirement for human intervention is removed and the accumulation of costs involved with handling queries is minimised.
Reduced Average Handling Times
Acting as a vast library of knowledge, web self-service software helps customers gather information during the problem-solving process. If their query is non-routine and complex by nature, they will escalate to an agent-assisted channel. Once they have reached an agent, they are particularly informed on the issue which helps to reduce Average Handling Times (AHT) considerably. 
Enhanced Customer Experience
Today, customers expect more than an average customer experience, they want a seamless and valuable journey from the first interaction at entry page to satisfying their requirement at the exit page. It's about presenting customers with a virtual line of conversation that guides them towards a resolution. To achieve this, advanced web self-service software will utilise decision trees, offering the customer a series of questions, that will resolve their queries based on the answers provided – without having to escalate to an agent. This allows customers to benefit from the convenience and efficiency of an online channel but also the accuracy and depth of an agent-assisted one. If self-service identifies that a customer query is too complex to deal with and requires some agent assistance, then an escalation call to action is offered, thus contributing to a great customer experience.

Find out more about the best self-service software for your customers


Consistency and Accuracy of Answers
With customer contact volumes on the rise, contact centres cannot afford to deal with duplicate queries or complaints that are made due to inaccurate and inconsistent answers being provided. Because self-service software integrates with a company's knowledge base – the central repository of knowledge, companies are assured that the same answers are being provided across their contact channels. For instance, your company uses web self-service software, chatbot tools, agents on live chat and agents on telephones to deal with customer queries, because all of these channels are connected to the same knowledge base, the answers are accurate and consistent regardless of the means in which the question is asked, and whether an agent or AI resolves it. Without such integrations in place, customers could be given incorrect information that could lead to bigger problems and prove detrimental to a company and its reputation.
In customer service, what makes for a happy customer? Generally, it is when a customer feels heard, has had their issue resolved and in a reasonable timeframe.Not only does web self-service automate the Q&A process, therefore resulting in more queries resolved at a quicker rate, but it also sorts customers into appropriate contact channels, helping to prevent frustration and bad experiences. Poor contact solutions do not make it explicitly clear that certain query types can be dealt with online and through automations. Intelligent self-service software can guide customers to the appropriate answer or alternatively, the correct contact channel depending on the questions they are asking. This prevents customers unnecessarily ending up on hold for 45 minutes whilst they wait for their routine question to be dealt with – resulting in them feeling frustrated which is likely to be reflected in CSAT scores. When companies can provide an easy way to find automated, quick contact channels that many customers prefer to use, CSAT scores improve.
From an internal perspective, deploying web self-service software is incredibly valuable, impacting on not only the quality of agent work and morale but subsequently, staff attribution rates. When web self-service automates routine enquires, it is not only contributing to efficiency, but it is also removing the mundane, repetitive aspect of agents' roles, which can affect staff turnover quite negatively. Employees instead feel empowered dealing with complex customer queries that give them a sense of purpose. This means that your employees have a higher job satisfaction and are therefore more likely to stay in a role, positively impacting attrition rates.
What is Intelligent
Web Self-Service Software?
Unlike standard self-service software, intelligent web self-service software is built on machine learning principles to understand customer intent and by doing so, can produce an enhanced customer experience, reducing the work that customers have to put in.
Intelligent self-service software essentially takes on the role of an agent so that customers can benefit from the efficiency and convenience of an online channel, whilst engaging in conversational-like interactions that guide them to a resolution. This is made possible through Natural Language Processing (NLP) and optimised customer journeys that are facilitated through decision trees.
NLP (Natural Language Processing) is an algorithmic-based machine learning principle that understands natural human speech and can even understand intent. NLP technology is able to understand naturally phrased questions like, "Can I get a refund if I don't have a receipt?", comprehending not just content but context.
NLP takes customer queries, such as the one above and analyses them. The methodology differs from technology to technology, but in the case of Synthetix's toolset, the question is broken down into words and codified based on intent keywords, nouns, verbs, words stems and questions. Stop words are disregarded so that NLP can focus on the keywords that matter. With the important terms and context cues isolated, the NLP algorithm calculates which articles are best to serve. This all happens in real-time and is completely automated.
A fundamental advantage to knowledge management software that is built on machine learning is AI. When users add articles to the knowledge base, AI identifies and stores numerous variations of the way a query can be asked and applies those to the article for greater accessibility and visibility. This reduces significant efforts otherwise spent adding a multitude of variations to ensure similar queries trigger the same article.
For your customers, the utilisation of NLP in intelligent web self-service means greater accuracy of results and a smooth journey. NLP enables a search function that works regardless of if the customer query is an exact match or not – it will still recognise what is being asked, similar to how you use a traditional search engine. For optimal accuracy, NLP takes into consideration 4 layers of search: keywords, intent, grammar and popularity to serve customers the best results, eliminating the need for your customers to pick up the phone and contact an agent. All of this provides a positive and seamless experience.
Decisions Trees to Optimise Customer Journeys
Basic self-service solutions assume that customers already know the resolution they are looking for when they engage with the software. In reality, the customer understands they have a problem but will require some additional problem-solving to reach a resolution. Therefore, customers must carry out a lot of their own research and troubleshooting when using a basic self-service which proves ineffective and cumbersome to the customer experience.
Intelligent self-service software, on the other hand takes care of the problem-solving for the customer, asking them a series of questions that are linked to one another to guide them to the correct resolution. This is achieved using decision trees. The editor anticipates multiple customer outcomes and creates the paths accordingly using a simple editor and drag and drop system. Covering every possible journey, self-service is able to intercept the customer at the problem-solving stage and successfully guide them to their end result which could include an article or an escalation point if necessary.
Decision trees, adopted by self-service software are what makes the customer journey possible, ascending the customer beyond just one step. Adding this extra level of sophistication allows you to serve customers online without involving agents. This means a huge reduction in labour costs for groups of questions that can be standardised. User behaviour and interactions also provide the insights that allow companies to frequently develop customer journeys and paths to become more efficient over time.
When executed well, the use of customer journeys within self-service should leave your customers feeling satisfied. Companies that prove they can problem solve and truly understand a customer's needs through the series of questions they ask, and subsequently the resolution they deliver, creates positive brand associations with the customer. All of this contributes to an excellent customer experience which can be reflected in rising CSAT scores.