Knowledge: For Your Customers
SEO-Optimised Help Centre and Knowledge Widget, Powered by Natural Language Processing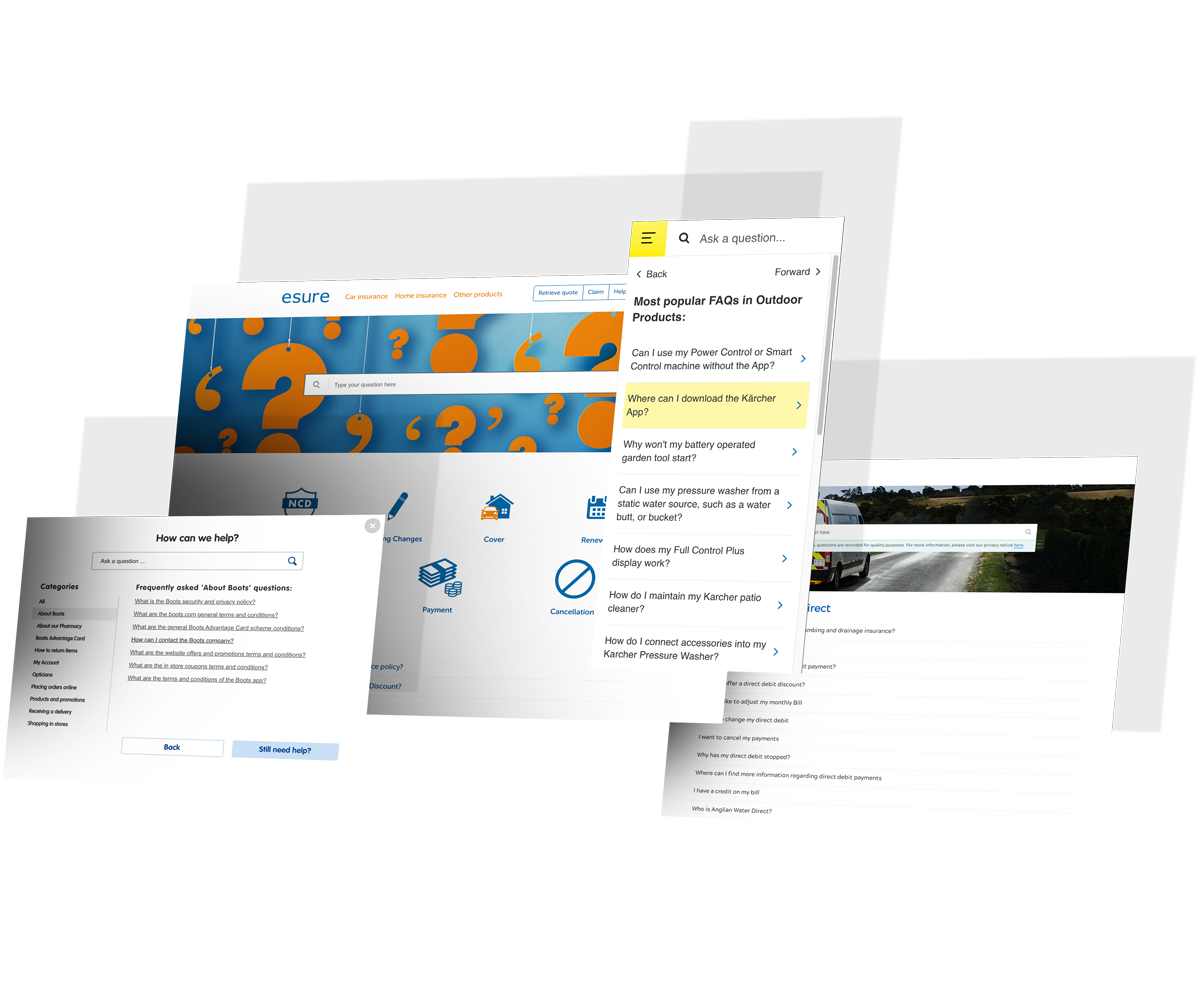 Support Your Customers 24/7
Knowledge is your company's most valuable asset. Our intelligent searchable Knowledge Base can harness that asset, empowering your customers to self-serve answers to their questions instantly.  
Built with customer experience in mind, Knowledge from Synthetix uses AI-powered Natural Language Processing (NLP) to understand intent, offering your users accurate and targeted results. Built on machine learning principles, the Knowledge Base learns from every interaction, adapting and optimising over time. 
Handle 20% of Routine Queries Online
Frequently asked questions are one of the largest strains to contact centres. By implementing Knowledge, customers resolve these queries online, dramatically reducing the volume of inbound contact to your support team. This significantly reduces operational costs and increases your team's bandwidth, allowing them to invest time in more complex customer queries.  
Customer journeys starts on Google
CX starts before users land on your site. Your customers search for their problem directly on Google with the expectation of being served an immediate answer from your knowledge base. Unfortunately, the content in many self-service tools is not findable by search engines directly. This forces users to navigate to your site to manually find the answer. This deeply frustrates users, leading to more calls to your contact centre, more complaints, and lower revenues.
The SEO Knowledge Base is our solution to this. It has been built to ensure you have the tools to excel in SEO and help your customers connect with you. With full control over your meta titles and descriptions, along with analytics into user behaviour, you can ensure your articles rank at the top of the search results for every user query.
Knowledge can take the form of a floating, persistent tool that stays with your customer whilst they navigate through your site or it can be presented as a full-page help centre – or both.  
Widget Mode
Full Screen Mode
Benefits
Improve CX with an easy-to-navigate, centralised location for Knowledge.


Cater to all users' accessibility needs by offering a full-screen, searchable help centre.


A rich library of information that is ideal for problem-solvers who want to browse several FAQs.
Empower your contact centre to invest more time into customer satisfaction without the additional costs. As Knowledge reduces large volumes of unnecessary contact, the strain on the contact centre is alleviated, giving agents the time required to effectively deal with more complex customer issues. This reduces handling and wait times whilst subsequently improving CSAT scores.
Knowledge's integration capabilities ensure not only that customers are served the best results by harnessing your knowledge base's Natural Language Processing, but also facilitate smooth customer journeys. For non-routine customer queries, escalation to agent-assisted channels is available and executed seamlessly to provide excellent CX. 
Understand Search Intent with Machine Learning
The Synthetix platform learns from every interaction. Customer contacts, outcomes and feedback metrics form the training data that allows the system to optimise how and when it displays relevant material to future users. 
Natural Language Processing (NLP)
Users do not search in perfect, neat keywords. They ask questions conversationally, often using incomplete phrases. Knowledge: For Your Customers by Synthetix uses four layers of sophisticated, real-time linguistic search technology. This gives the system the ability to uniquely derive meaning from user queries, ensuring the best and most popular search results appear first and fast.  
Knowledge: For Your Customers comes equipped with a powerful suite of analytical tools to improve agent efficiency and accuracy of knowledge articles. Here's a small sample of our real-time intelligence:  
Pull insights on the top-level effectiveness of your knowledge articles, revealing how effective the knowledge base is in assisting your users. 
Gain insight into how your customers are interacting with the tool and fill any holes in the knowledge base. 
See where the tools are being triggered on your website, and which trigger is most optimal.  
To learn more about how Knowledge can help your customers and business, please get in touch with us today.