The Complete Digital Contact Centre Solution
The ultimate online CX solution for contact centres includes a blend of conversational AI, self-service tools powered by Natural Language Processing (NLP), an intelligent knowledge base and intuitive agent workspaces.
Through automation and escalation, our contact centre clients can handle queries in the most optimal way, helping:
Reduce contact centre overheads

 

Boost agent productivity

 

Encourage Employee Satisfaction

 

Enhance CX

 

Promote CSAT

 

Drive overall business efficiency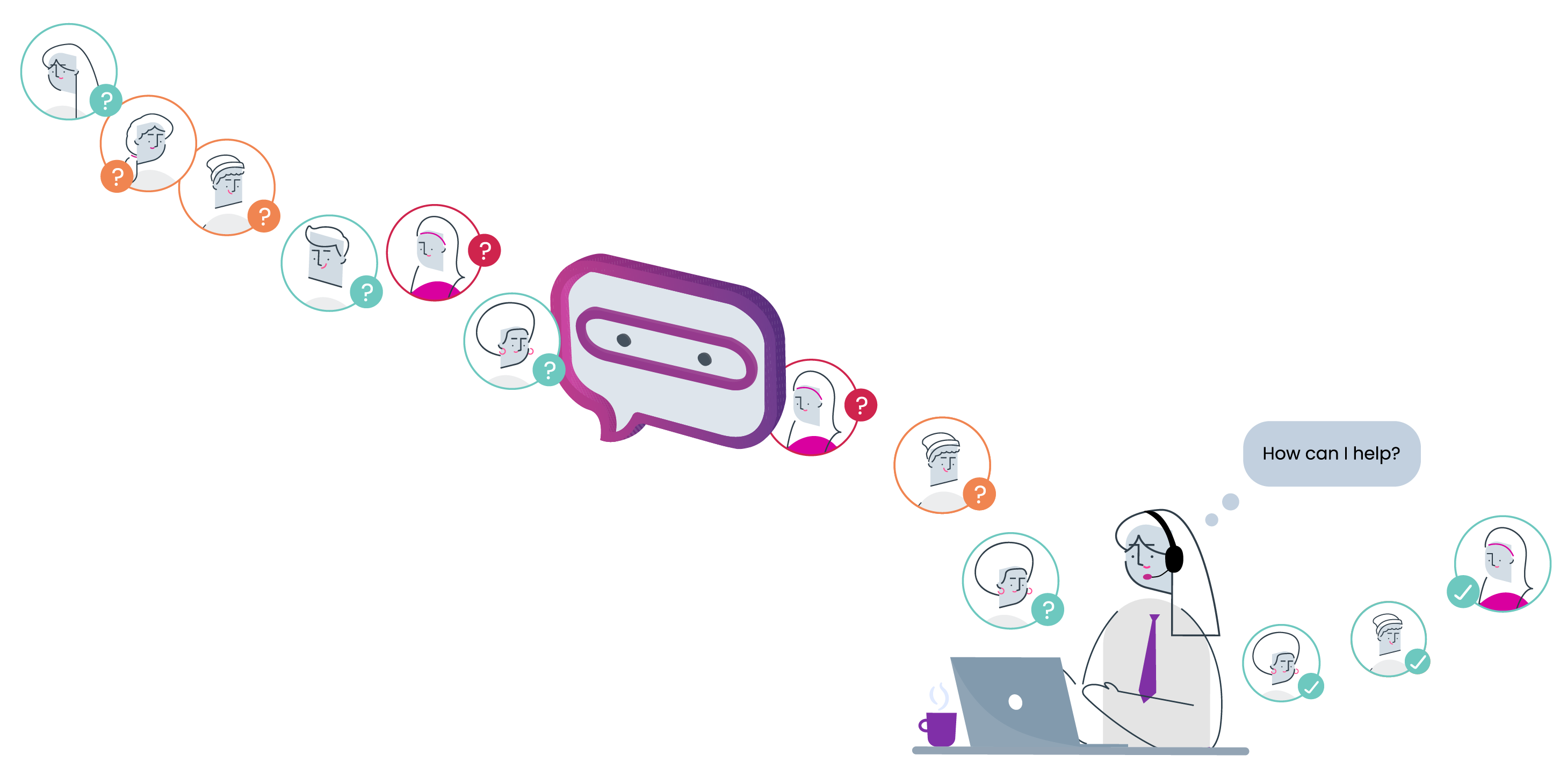 Automate FAQs Using Conversational AI
Our AI-powered conversational chatbot, Xan proactively offers assistance to your site visitors during critical touchpoints in the user journey. 
When help is offered can be configured by you – whether that's when a certain time condition is met or when a particular page is hit. 
Xan utilises powerful Natural Language Processing (NLP) to analyse every element of the user query in order to understand intent.  
A chatbot is therefore the perfect contact centre assistant – automating routine queries that would otherwise reach the contact centre and contribute to costs associated with query handling. 
Handle 20% of routine queries using an intelligent bot. 


Seamlessly Escalate To Agents When Necessary
When a user requires additional help from an agent, your chatbot seamlessly escalates them to live chat or directly to the contact centre. 
Using sentiment analysis, Xan automatically escalates users based on the keywords that are being used – all of which is configurable by you. 
Not only does this help solve complicated user issues quicker, contributing to CSAT but it streamlines the otherwise fragmented and repetitive user journey.
33% of customers are most frustrated by having to repeat themselves to multiple support reps.
With AI dealing with routine tasks, agents have a greater capacity in which to deal with issues that are complex by nature, boosting CSAT but also adding to job satisfaction.

Don't just take our word for it
We're the choice of some of the world's leading brands, revolutionising enterprise online customer service one deployment at a time. Here's what our customers say about us…
"The versatility of the Synthetix online customer service solutions has allowed National Express and their customers the opportunity to significantly enhance their online experience when looking for answers. It has had a positive result in overall customer contact and has reduced costs."
"The technology and service provided by Synthetix has made a tangible improvement on our efficiency as a business and helped us deliver a better experience for our customers."
"It's been great working with Synthetix, we've built a really great relationship with them. When we need Synthetix for support they are quick to respond, sometimes just minutes. We have seen a reduction in calls and email queries but also an increase in productivity due to the knowledge-base which makes it easy to find information and resolve customer queries much quicker."
"We're delighted with our new knowledge-base and the improvement it's made to our website. The look and feel is great and it's really easy for our customers to use, which is so important for us. Working with Synthetix was just as easy too. Their professional yet friendly attitude assured me everything was in hand."
Arrange a full demonstration of Synthetix software with our friendly business development team, who will answer all of your questions about our award-winning digital customer engagement solutions.