What Is Customer Self-Service?
A fundamental support tool, customer self-service provides customers, visitors and prospects with the option to serve themselves online. This means users can find answers to their own questions, resolves their own issues and discover critical information by themselves.
Not only does this contribute significantly to contact reduction in the contact centre – as AI-powered customer self-service tools automatically handle routine questions – but customers love it too. By cutting out the need to find contact information, get in touch with an agent and by giving customers the tools to help themselves, things become much easier, quicker and more convenient, which of course helps to improve the customer experience.
67% of customers prefer self-service over speaking to a company representative.
The global self-service technology market size is expected to reach USD 46 billion by 2027, registering a CAGR of 6.7% from 2020 to 2027. The growing demand for self-service solutions amongst businesses can be attributed to their successes within customer satisfaction and operational efficiency.
Customer self-service reduces contact volumes by up to 50%. When we consider the sheer volume of routine queries that make their way to contact centres to be dealt with and the costs associated with handling them, this contact reduction translates into huge cost savings. The AI-powered self-service tools can recognise multiple variations of questions, matching them with relevant knowledge articles and providing customers with the most relevant results.
When configured correctly, customer self-service can intercept customers when they need help, removing the need for agent assistance and therefore reducing the volume of routine questions received. This means that agents have more bandwidth to deal with customers' complex issues.
Through the utilisation of Natural Language Processing (NLP), customers are always delivered the most relevant results. This is achieved by NLP unpicking sentence structure and ultimately understanding context to successfully answer questions. This and the freedom to serve themselves helps to increase CSAT and positive associations with your brand.
For more on the fundamentals of self-service software, click here.
Different Forms of Customer Self-service
Depending on your business, website and how customers interact with your brand you might choose to offer self-service on its own page, as a widget, or both.
Whilst an FAQ-style self-service page offers customers a hub to which they can independently search for what answers they want, a widget can be configured to display when certain conditions are met. Using trigger management, customer self-service widgets can offer help when, for example, when certain pages are visited, or a certain amount of time is spent on one page. This increases the chances of customers reaching their destination and can even contribute to revenue.
An AI-powered chatbot is also a form of self-service, providing an additional conversational element to CX.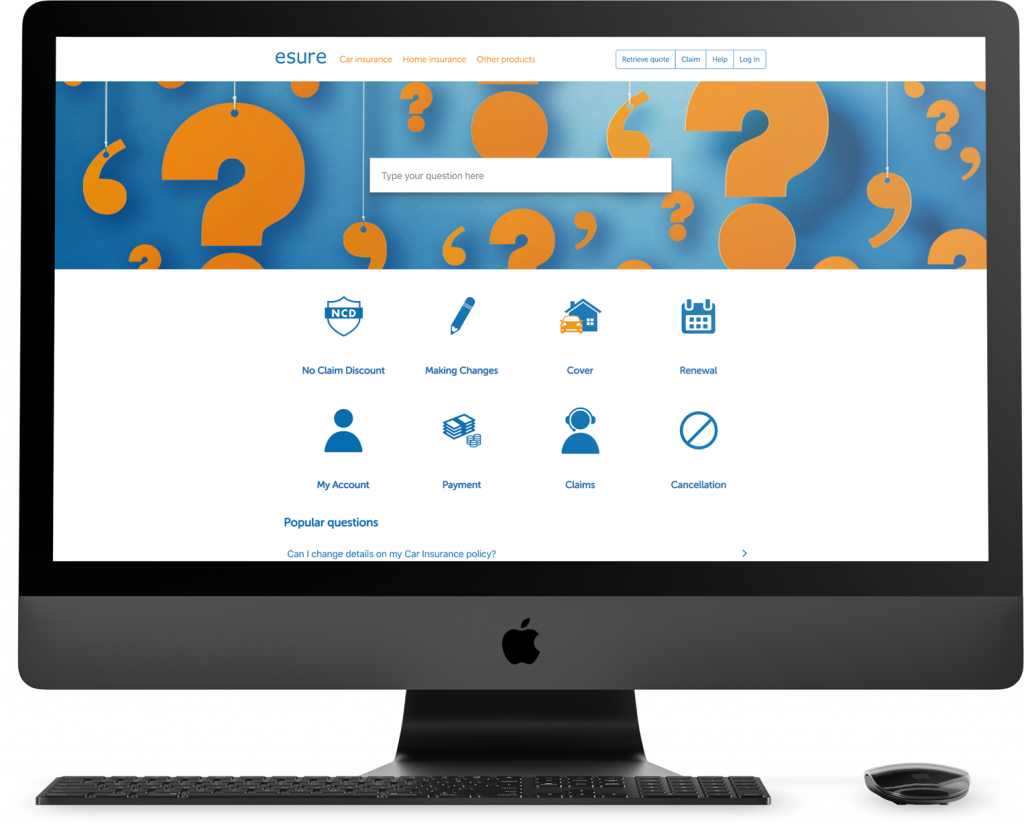 1. Underpin Customer Self-Service with A Knowledge Base
Behind any good self-service solution is an intelligent knowledge base.
As your centralised source of company knowledge, your knowledge base powers your self-service tools. Through seamless integration and sophisticated AI, the software identifies relevant knowledge articles based on what a customer has entered into the self-service tool. Natural Language Processing (NLP) helps to understand the query intent and subsequently retrieves adequate answers.
To ensure you get customer self-service right, select knowledge base software that:
Is powered by AI
Harnesses NLP
Is built with the contact centre and customer in mind
Includes seamless integrations
Is implemented through low-code
Uses open RESTful APIs
2. Plan Around Customer Experience
When discussing goals, objectives and possible outcomes for any self-service project, it is crucial to remember the end-user and consider their needs and expectations with every decision that is made.
Perhaps your underlying goal for implementing customer self-service is one of the following:
Contact reduction in the contact centre
Reduction of support costs
Better CX
CSAT or NPS score improvements
Even if your main goal surrounds contact or cost reduction, the self-service tool must first cater to your end-user in order to function successfully. Surprisingly, the end-user and their needs often get lost within projects such as this, so keep them in mind always.
Ensuring that the customer is at the forefront of every key decision that is made around self-service keeps you on track to implementing the best solution for your company.
3. Always Choose Natural Language Processing
Customer self-service without Natural Language Processing (NLP) cannot effectively handle queries or deliver CX.
Why? Basic self-service solutions that do not utilise NLP rely totally on the customer query matching its records exactly in order to provide an answer. When a variation is entered instead, the customer is generally served an unhelpful and frustrating response.
AI-powered self-service software on the other hand,, utilises NLP so that multiple variations of the same query are successfully understood and therefore customers are served relevant answers. NLP unpicks queries, analysing keywords, intent, grammar and popularity to comprehend intent, increasing the chances of the correct results being served and thus great CX.
4. Map Your Customer Journeys
Having a clear, holistic view of your customer journeys encourages cost-efficient routes whilst enhancing experience.
Its good practice to understand customer journeys, from start to finish – especially those that are common. By mapping these out, it quickly becomes obvious any roadblocks users might be experiencing, as well as opportunities for automation to take place.
For instance, if you found a pattern in a journey where users were requesting a particular form or task, you might look at ways in which to automate this task through self-service opposed to introducing an agent. This would cut support costs and prove smoother for customers.
This is also a great opportunity to configure custom triggers to pages or events that warrant additional help.
Customer Journey with Roadblock
Customer identifies an issue
They use a search engine to find a resolution
No results are found, this is a roadblock affecting CSAT poorly
Customer continues research on company website
They contact Customer Service
Issue is resolved
Customer Journey with Roadblock Resolved
Customer identifies an issue
They use a search engine to find a resolution
An SEO result is found quickly and efficiently contributing to CSAT
Issue is resolved
5. Configure Escalation Points
Not every customer query can be dealt with using AI, sometimes human intelligence and empathy are required to effectively serve a customer.
Of course, companies know this to be true, but what is fundamental here is the way in which customers are escalated from self-service to agent-assisted channels. It can be the difference between a repeat purchase and a poor CSAT score or review.
This transition must be seamless, without obstacles or the customer having to repeat themselves. Ensure you select a customer self-service tool that offers smooth escalation to live chat and other agent-assisted channels. These escalation points can be configured based on keyword triggers, such as "cancellation" or naturally when AI cannot find a resolution.
6. Choose A Low-Code Deployment Option
Customer self-service software deployment shouldn't be time-consuming or complicated, nor should it require a multitude of employees from different departments.
By selecting self-service software that utilises low-code, implementation is effortless and tools can be up and running quickly and efficiently. Unlike traditional deployment methods, low-code involves the simple installation of one line of code, removing the need for hours of developer work or toolkit configuration.
During the software selection process, make this key criterion, it will ultimately help you hit your goals and improve customer service far quicker than alternative, dated methods.
7. Know the Power of Seamless Integration
Companies understand the importance of having not only a strong collection of key business and customer service tools, but a collection that cohesively communicates and works together to serve a shared purpose.
If your knowledge base, customer self-service tools, CRM, email platform and other key apps cannot share data amongst each other, then efficiency, CSAT and costs will suffer dramatically.
Select self-service software that effortlessly integrates with your internal, customer-facing and 3rd party applications for optimal efficiency.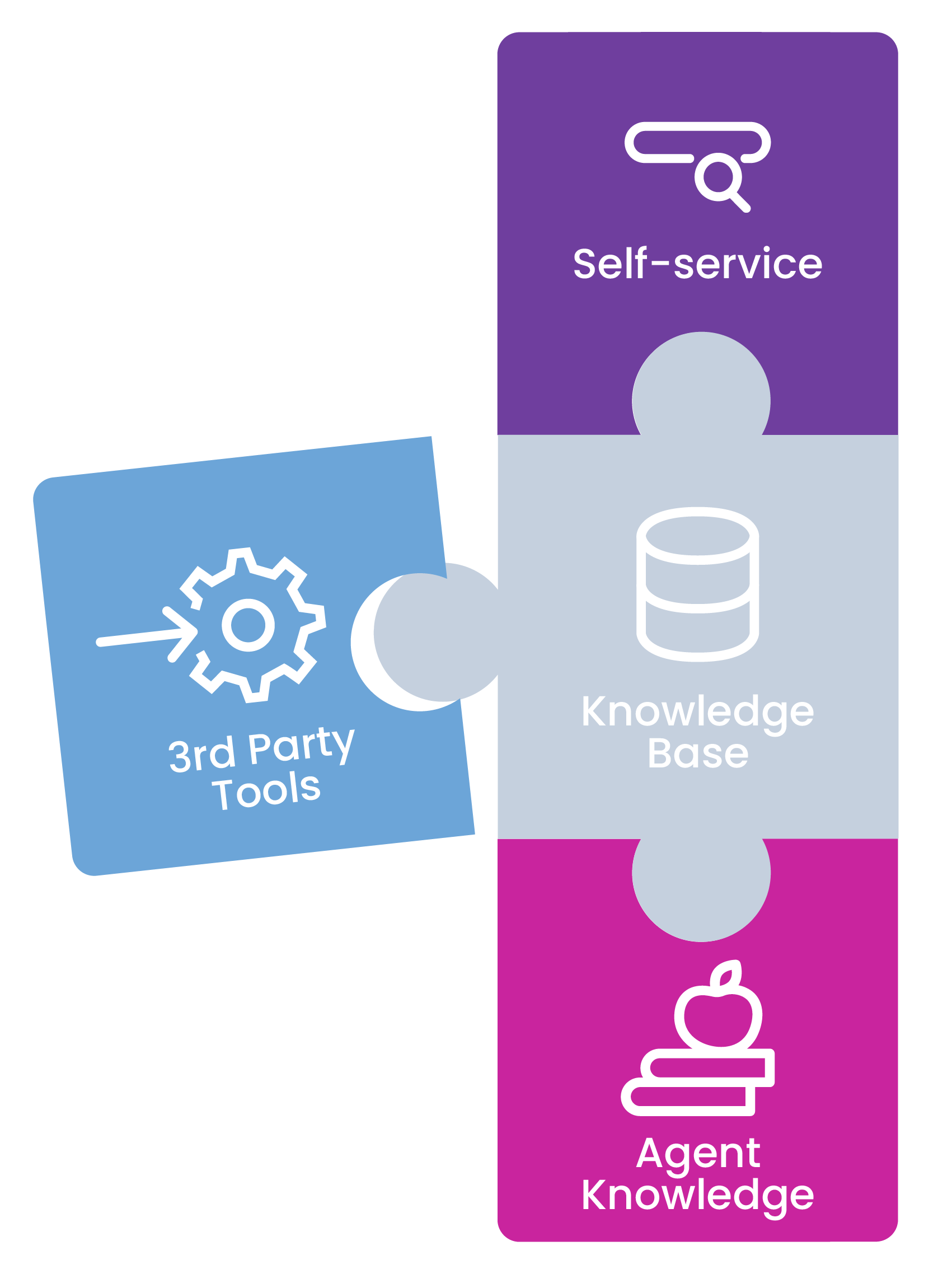 8. Measurement Is Key for Constant Improvement
The measurement of self-service analytics is integral to the continual optimisation of customer service.
The frequent measurement of self-service metrics helps to identify areas of success, behavioural patterns, customer preferences and any errors. It ultimately determines the effectiveness of your tool, revealing gaps that can be improved and trends that can influence key decision making in other areas.
You can't manage what you can't measure, so ensure that the customer self-service software you choose offers a comprehensive analytics suite.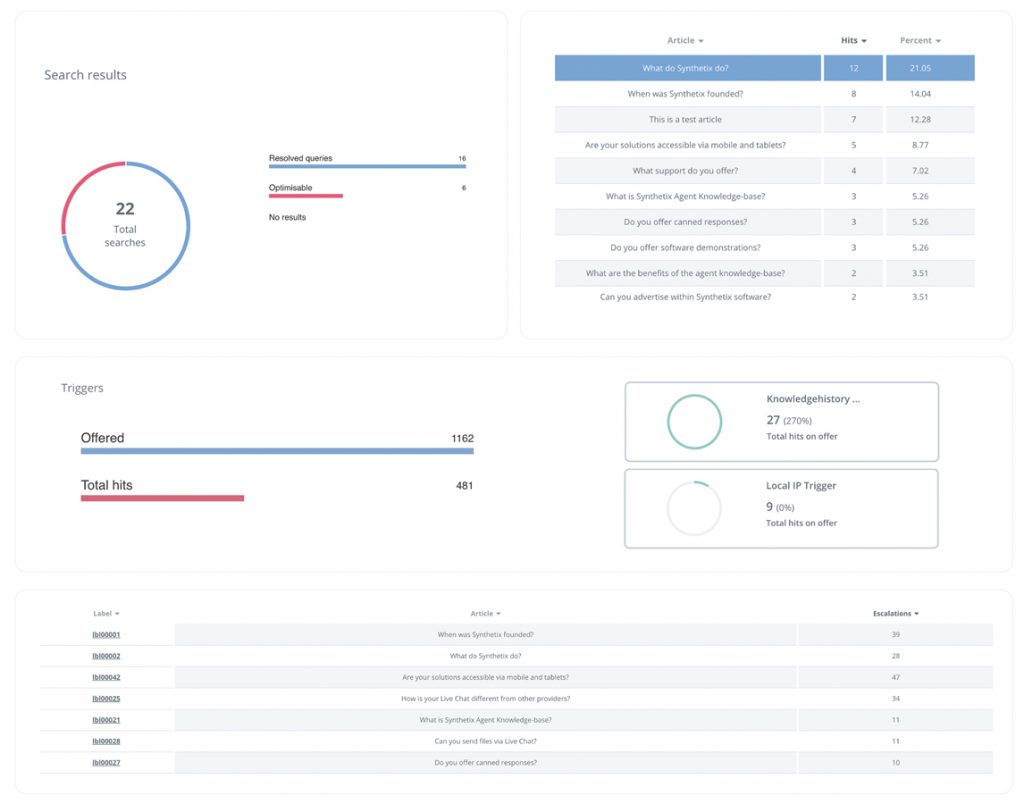 ---
If you enjoyed this article and would like to know more about self-service you can read our guide here or for advice on software and implementation, please