Self-Service Software for Customers: The Considerations 
Rather than recommending something that should be subjective to each company's needs, we have put together some considerations that will lead you to the best self-service software for your customers: 
Does the self-service software utilise Natural Language Processing? 
Is the self-service software fuelled by one centralised knowledge base? 
Can the FAQ articles be found organically using search engines? 
Can the self-service software be optimised for different customer journeys? 
How easy is escalation between self-service and agent-assisted channels? 
Can the self-service software's content be improved over time? 
Does The Self-Service Software Utilise Natural Language Processing?
Natural Language Processing (NLP), a branch of Artificial Intelligence (AI), is used to help analyse linguistics and by doing so, understand intent.
For customer service and particularly in self-service software, this means unpicking customers' queries, analysing components such as grammar, keywords, intent and popularity to identify user intent. From here intent keywords are matched with knowledge articles, serving users the most relevant results. 
Many companies consider NLP-powered self-service as essential. Not only does it provide customers with accurate resolutions 24/7/365, but it also helps to significantly reduce contact centre costs.
Because AI is capable of handling large volumes of routine queries – queries that would otherwise reach contact centre agents – the overheads associated with query handling are significantly reduced, bringing down support costs. 
It can also remove the repetitive and mundane from agents' day-to-day tasks. As AI is capable of dealing with routine queries and tasks, operators can help with more complex and 'worthwhile' issues, adding to job satisfaction, or ESAT (Employee Satisfaction). 
Is The Self-Service Software Fuelled By One Centralised Knowledge Base?
A centralised knowledge base acts as your main source of information, powering all customer service channels including self-service software for your customers to use.
The benefit of utilising a knowledge base here – and particularly an intelligent, AI-powered knowledge base – is that it ensures consistency of information, encouraging CSAT but also helping to prevent any problematic situations that could occur as a result of inaccurate information. 
The issue with having multiple channels and sources of information is that they have to be updated separately, increasing the risk of them displaying contradictory, inaccurate or misleading information on behalf of your company.
Not only may your brand's reputation come under fire, but customer loyalty may also be affected or in some cases, the consequences of showing incorrect information could lead to legal action or worse.
Having self-service software that is powered by a knowledge base also saves significant time as knowledge articles only need updating once and changes are reflected wherever you have opted for a particular article to show. 
Can The FAQ Articles Be Found Organically Using Search Engines?
There are a number of different ways in which a user might begin their journey. Whether it's directly through your site or via a social media channel, it's important to accommodate every user and their preference – including organic search engine results.
Having self-service FAQ results findable via search engine results not online streamlines the customer journey significantly, trimming time off their session and improving CX but can also help to enhance brand visibility. 

So, how is this achieved?
For your FAQ result to be visible in search engine results, your self-service software provider translates each knowledge article into its own crawlable, searchable URL
Can The Self-Service Software Be Optimised For Different Customer Journeys?
Not every routine query or task has a cookie-cutter resolution or process, often there are variables and conditions that will affect the result.
Just as agents carry out the troubleshooting process by asking follow-up questions to a user's initial query, the best self-service software does this too. Fuelled by AI and by harnessing intelligent decision tree technology, multifaceted routine queries can be automated.
By mapping out your users' most common journeys, popular FAQs and additional questioning requirements, you can create smooth and effective routes to resolution – without having to involve human interception. All of which is achieved through an easy-to-use decision tree creation tool, knowledge articles can be dragged and dropped to fit common journeys. 
Anticipating and catering to popular user journeys not only enhances CX significantly but it improves CSAT scores as users are served resolutions without having to wait on hold or repeat themselves.  
How Easy Is Escalation Between Self-Service And Agent-Assisted Channels? 
There will always be occasions where queries are too complex by nature to be handled using AI alone. This is where seamless escalation between self-service software and agent-assisted channels such as live chat is critical to CX.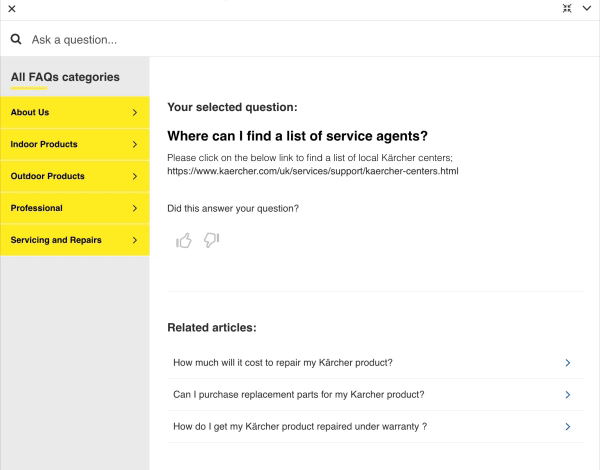 Your users don't want to be told: "Sorry no results found. Please contact support", to then have to find a contact number, wait on hold and then repeat themselves. For your customers, it's a huge waste of time.
Instead, Ensure your customer service tools are integrated, working together frictionlessly. When your self-service tools suspect that human intelligence is required, automatic escalation to live chat takes place, all within the same window to prevent repetition, improving CX. 
Can The Self-Service Software's Content Be Improved Over Time?
When it comes to self-service software for your customers, it's important that knowledge article content is helpful and being optimised regularly.
One of the most effective ways to ensure your FAQ content is serving its audience effectively is by encouraging interactive customer feedback options. Asking users if a knowledge article helped resolve their issue can help uncover areas for improvement and ultimately other users' journeys.
Self-service software that includes a prompt for query feedback is particularly effective when it comes to optimisation, by getting users' take on why an FAQ did not help contributes to constant optimisation.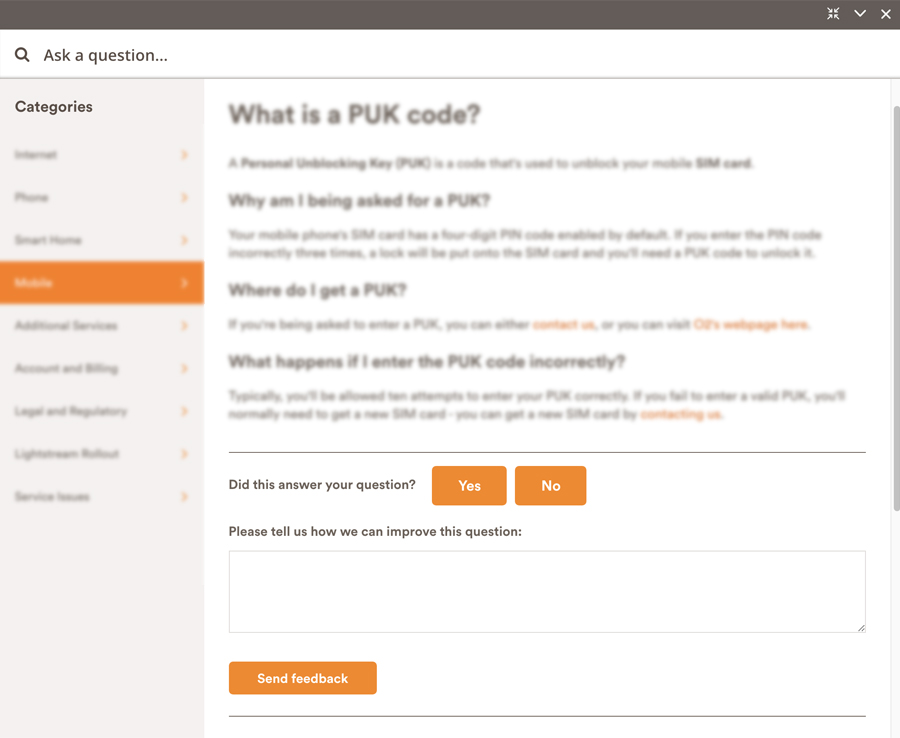 ---
If you enjoyed this article and would like to find out more about self-service software for your customers, check out our guide here or for help selecting software