The Evolution of Live Chat
Live chat is an online contact channel that allows your customers to speak directly with your company representatives. Most commonly used to facilitate customer support, it can also assist in lead and revenue generation activities.
Unlike other online customer service channels such as self-service portals or chatbots that rely on AI to generate results to routine queries, live chat utilises human agents. This, therefore, makes live chat the perfect support channel for dealing with non-routine queries that are complex and require a level of human understanding and emotion.
Live chat software has been around since the 1970s when Illinois University introduced PLATO, followed by the explosion of instant messaging platforms in the 1990s. But today, live chat is multifaceted and quickly becoming customers preferred method of communication.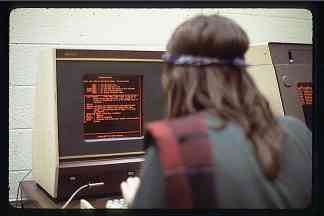 First-generation live chat software, PLATO was used at Illinois University in 1973.
With the global live chat market rapidly growing at a CAGR of 7.5% from 2017 to 2023 , it's no wonder that it's replacing traditional agent-assisted contact channels like telephony.
Reasons Online Live Chat Is Replacing Telephony
So, why is online live chat quickly replacing telephony:
Online live chat is significantly more value for money than telephony
Customers prefer online live chat
Online live chat is more efficient than telephony
Online live chat is easy to audit
Online live chat offers proactive support
Live chat teams up with your chatbot for 24/7 support
Online live chat is the ideal remote worker's tool
1. Online Live Chat Is Significantly Cheaper Than Telephony
When it comes to handling individual queries in the most cost-efficient way, live chat is the clear frontrunner.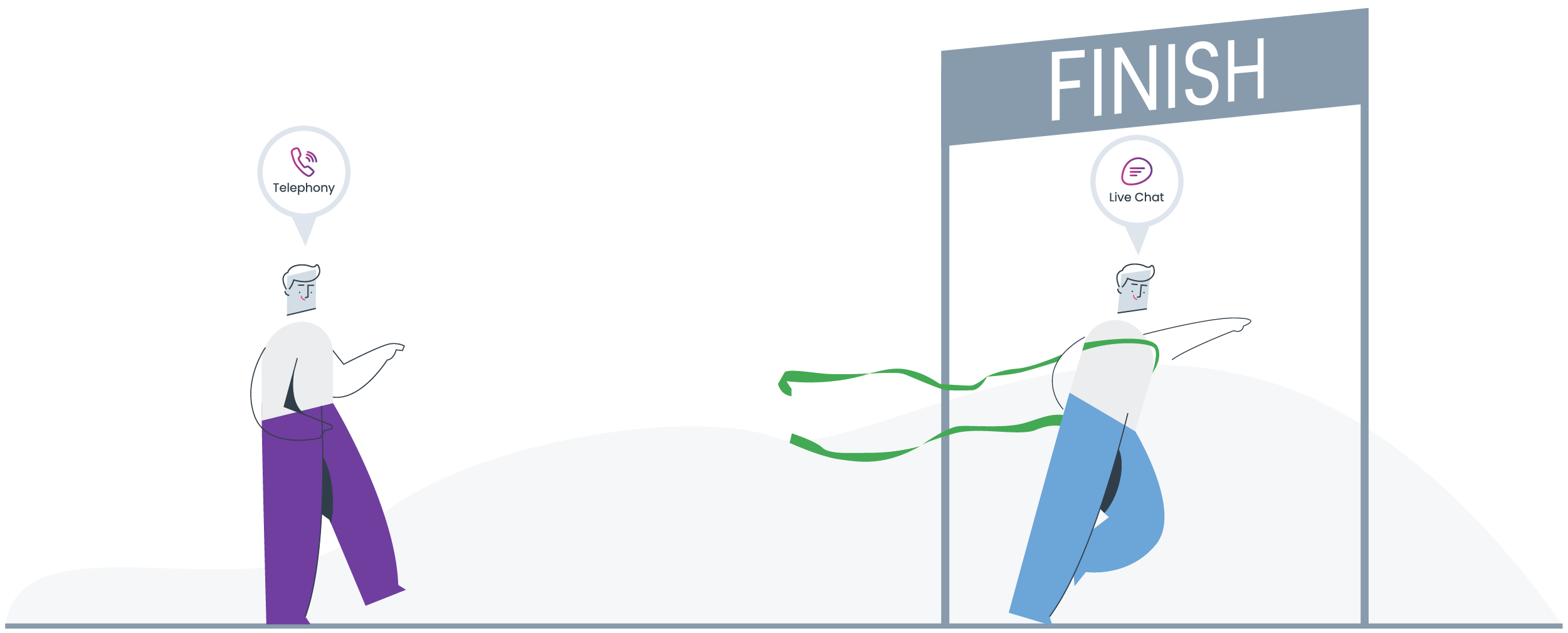 When a customer rings into the contact centre for help, the agent that answers is only physically capable of dealing with that individual – they cannot multitask or speak to multiple customers at once.
Whilst it's not feasible to have more than 1 verbal conversation at once, live chat provides the tools enabling agents to handle multiple customer queries simultaneously. When we take into consideration the accumulation of costs associated with handling a query, live chat proves significantly cheaper as a contact channel, bringing contact centre overheads down considerably.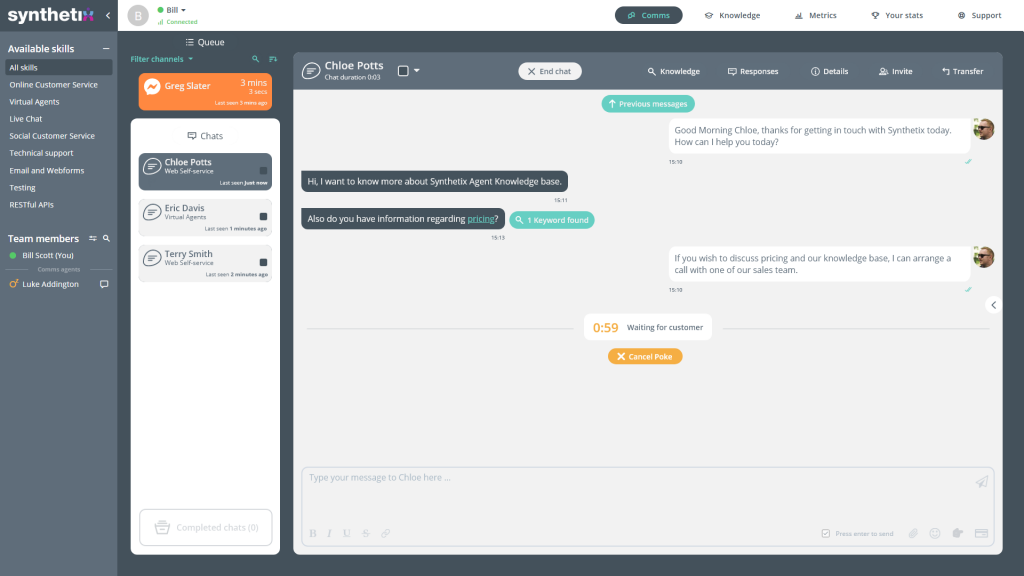 2. Customers Prefer Online Live Chat
Your customers are used to doing virtually everything online today, whether it's banking, booking medical appointments or even grocery shopping. These expectations don't stop when it comes to customer service, your customers not only expect to have their queries resolved entirely online, but they prefer it. 79% of customers in fact said their preferred contact channel was live chat – the most popular reason being its instant responses.
Customers love using online live chat because it offers them the convenience and ease-of-use of a digital channel, paired with the personability and depth of knowledge available with having a 1-to-1 conversation with a skilled agent.
Live chat embodies all the benefits of telephony but with quicker, more available access.
To learn more about why customers prefer live chat, click here.
3. Online Live Chat Is More Efficient Than Telephony
Online live chat includes a number of integrated features that boost agent productivity that telephony does not.
Within the chat console, agents have access to an integrated knowledge base that provides AI-predictive suggestions. This is a library made up of thousands of knowledge articles, available at their fingertips without having the switch in between tabs, browser or windows. Chat interfaces that utilise Natural Language Processing (NLP) significantly speed up Average Handling Times (AHT), making for a better customer and employee experience. NLP unpicks the customer query on every keypress, analysing every keyword to determine search intent, offering relevant results in the same window. The agent simply clicks to copy the whole or a section of the knowledge article and pastes it into the conversation.
Some online live chat vendors include a live keypress feed within the agent interface. By providing the agent with a preview of what is being typed from the customer's side on each keypress, an entire resolution can be built, often before the customer hits send. Not only does this reduce AHT but contributes to a great customer experience.
4. Online Live Chat Is Easy to Audit
Unlike telephony, which requires significant manual auditing, for example, logging a call and the customer's details and queries, live chat which is solely digital, automates these tasks and processes. For example:
Reviewing query information: Conversation transcripts are automatically saved once a chat has ended. This makes retrieving details simple, rather than having to search and listen for the same details in a lengthy audio recording.
Customer metrics: Instead of manually entering data on customers, using forms, live chat captures name, contact details, landing page, journey and more.
Agent metrics: Rather than relying on manual entry of data regarding performance – which can be affected by human error – live chat automatically captures data on completed chats, average answer time, average response time and more for greater visibility.
5. Online Live Chat Offers Proactive Support
Whilst telephony is a reactive form of customer support; it responds to customers needs once an issue has already occurred, live chat is proactive.
Using custom triggers, live chat can be configured to fire under certain conditions, intercepting the customer and helping them to their intended destination. For instance, when a visitor has spent a certain amount of time on a page such as a product page or cart page it could indicate that they need help before buying. When live chat is configured to trigger under these conditions, you are proactively offering assistance which could be the difference between cart abandonment and a sale.
Triggering live chat proactively in this way can also answer queries that avoid product refunds, returns and complaints, saving you money.
6. Live Chat Teams Up with Your Chatbot for 24/7 Support
Whilst call centres generally aren't open 24/7, live chat can still offer out of hours support with the help of an AI-powered chatbot.
Through seamless integration, facilitated by open RESTful APIs, chatbots take the reins from live chat when there are no agents available. Whilst the customer won't be speaking with a human, chatbots that are powered by AI harness NLP and this means that a huge range of routine queries can be dealt with.
So, rather than a customer reaching a support page with no options, they are met by a chatbot that can offer help or record their details to pass on to an agent if the query is too complex – a far greater CX.
7. Online Live Chat Is the Ideal Remote Worker's Tool
While remote working was already on the rise before the COVID-19 crisis, the practice has further been catalysed through necessity. It is predicted that remote working will stick for many companies, with 98% of employees agreeing they would like to continue with some form of remote working for the rest of their career – this includes contact centre and customer support employees.
If working from home is the new norm then online live chat conquers telephony for a number of reasons:
Agents need not worry about background noise when operating live chat
Poor signal won't affect their ability to help customers on live chat
Live chat allows agents to contact supervisors through direct messaging, avoiding long wait times otherwise experienced through telephony
Will Live Chat Replace Telephony Indefinitely?
Whilst we are not there yet, it is possible that in the future live chat will replace telephony indefinitely. But for now, audiences still require a blend of digital and human customer service experiences. This is why omnichannel support is critical. Customers want the option to contact you how they want, whether it's online live chat social media, WhatsApp or self-service.
For optimal CX, consider a customer service provider that offers omnichannel support for your customers.
---
If you enjoyed this article and would like to find out more about live chat, you can read more here or for help selecting live chat software and advice