Why Chatbots?
Whilst they have been around since the 1960s, when the first chatbot, ELIZA was born, it wasn't until recent years that the adoption of chatbots within business exploded. With the utilisation of AI and other intelligent functions, chatbots are no longer considered 'futuristic', rather a key component of the customer service ecosystem.
The global chatbot market is expected to exceed more than $10 billion by 2026 and will grow at a CAGR of more than 23% in the given forecast period.
It is also predicted that by 2022, chatbots will have saved businesses $8 billion per year, which is one of the key drivers for adoption and a fundamental reason why contact centre chatbots are fast becoming essential business tools.
So, how do they work?
Chatbots are a form of self-service that offer customer support through a familiar direct messaging interface. Built using AI and utilising Natural Language Processing, chatbots can facilitate a two-way conversation whereby the customer enters their query and the chatbot asks qualifying questions so that the most relevant answer can be delivered.
NLP utilises Natural Language Understanding (NLU) to dissect the query into keywords, search intent, grammar and popularity. Essentially understanding query context, an adequate and relevant answer can be generated through Natural Language Generation (NLG) using a conversational manner that matches your brand personality.
These mechanics help chatbots to understand multiple variations of the same question, meaning that they can successfully answer a query regardless of the language, grammar or idiosyncrasies that are entered. Chatbots that do not utilise NLP rely on customer queries matching their articles exactly in order to trigger a resolution, otherwise unhelpful responses such as, "I'm sorry, I don't understand the question." are delivered.
Basic, rule-based chatbot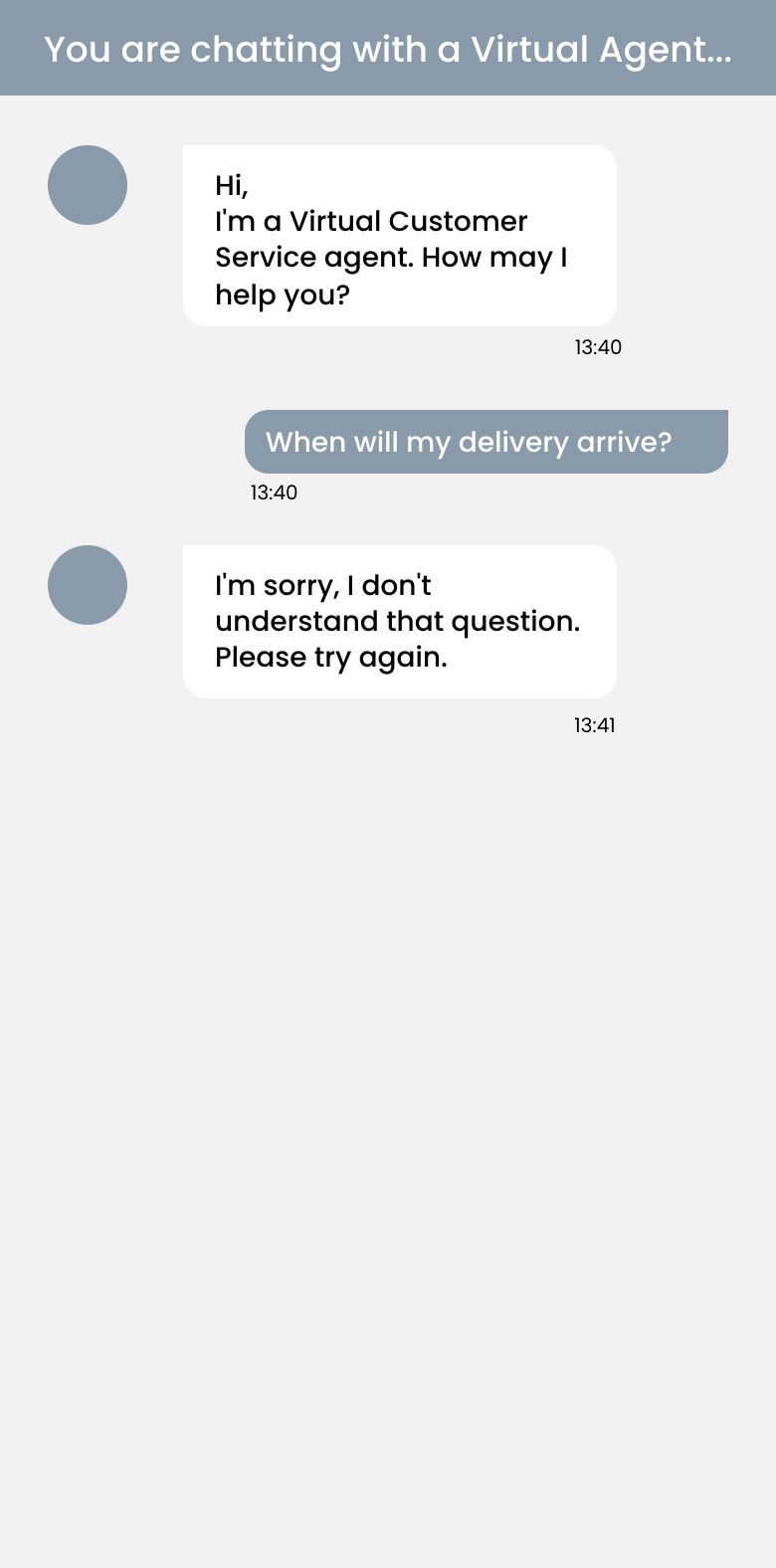 AI-powered chatbot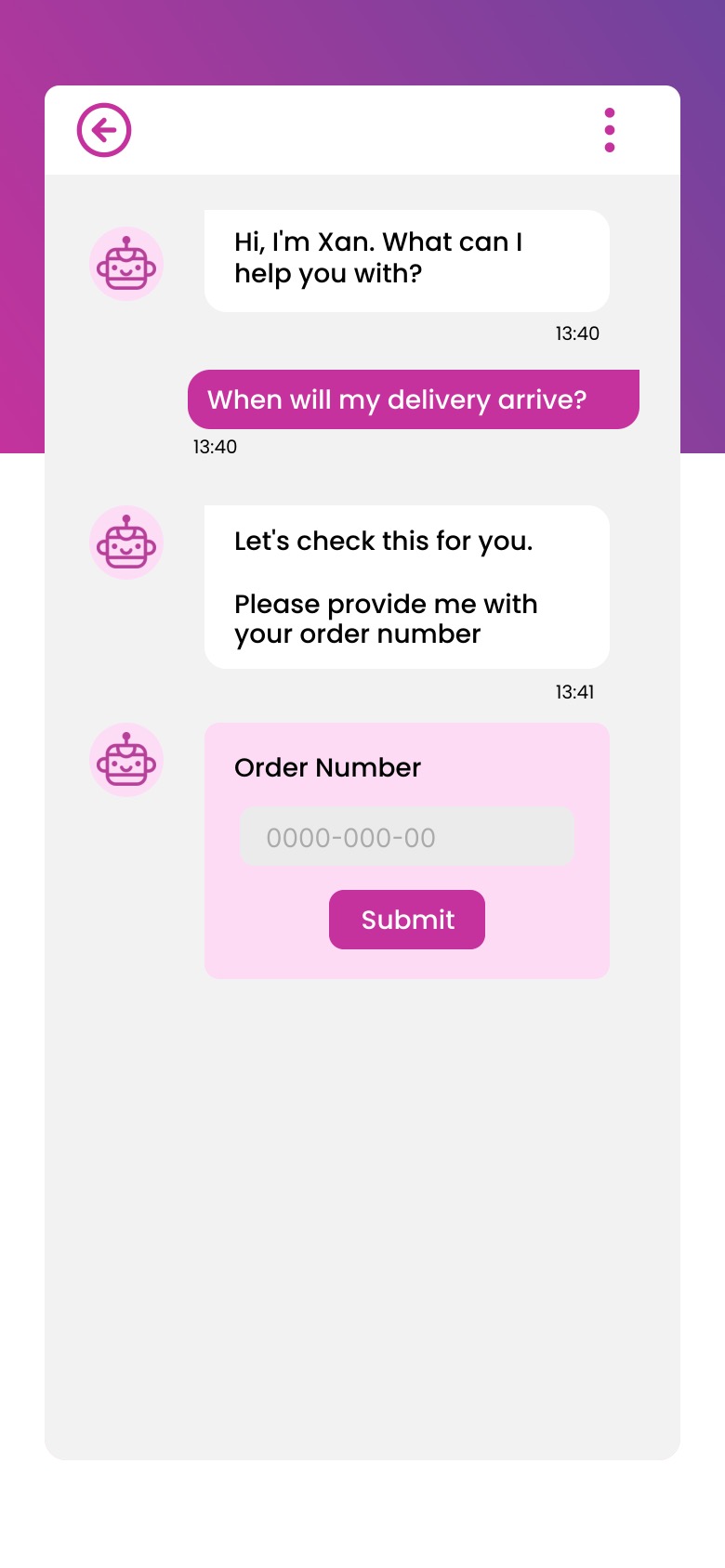 Adopted by a multitude of businesses across many industries, chatbots can:
Reduce Average Handling Times (AHT)
Increase First Contact Resolution (FCR)
Cut operational costs
Boost CSAT
Enhance CX
Promote agent efficiency
Improve employee morale
Further, the role of the contact centre chatbot within the wider customer service ecosystem is an important one. Acting as an online concierge, it handles routine questions and tasks, whilst providing escalation to agent-assisted channels like live chat when human intervention is required.
If you'd like to know more on the fundamentals of chatbots, click here.
How Do Chatbots Benefit the Contact Centre?
No longer a perceived threat to contact centres, chatbots are now considered a vital tool for agents. Working in amalgamation with chatbots helps to combat the growing volume of routine contact queries associated with the explosion of digital transformation.
Contact centre chatbots have become increasingly popular in recent years, particularly in 2020 as a result of the pandemic. With a surge in support calls and emails and some organisations experiencing up to a 133% spike in contact , chatbots provide support to agents working remotely and in the contact centre.
Chatbots Help Your Contact Centre Boost CSAT
Through continuous AI improvements and NLP development, chatbots have evolved to better understand the context and intent of the customer queries they are asked. With advanced AI, chatbots can not only handle routine queries but many routine tasks, such as:
Taking a meter reading
Submitting a claim
Resetting a password
Booking and confirming a reservation
Checking a delivery's location
Your chatbot can even be configured to match a certain tone of voice, providing the personal experience that so many customers require.
Whilst agents can only handle 1 call or email at a time, chatbots can automatically deal with large scale routine queries and tasks simultaneously. This, therefore, significantly frees up any channel congestion caused by large volumes of routine questions – the result of which means more customer queries are effectively dealt with and consequently, CSAT scores improve.
It also frees up agent resources, creating time and space for agents who can now provide their full attention and expertise to customers who require urgent attention due to their complex issues. If a customer is in a vulnerable position and needs urgent assistance, the last thing they need is to be waiting in a long queue to speak to an agent. This only reflects negatively on CX and CSAT but can be avoided by utilising contact centre chatbots.
Many customers prefer to self-serve if they can – around 73% in fact. By including a chatbot in your customer service offering you cater to your customers' needs, improving CSAT.
Further, chatbots provide customers with 24/7/365 support, they can resolve queries and instruct customers outside of contact centre operating hours or during public holidays. AI chatbots can even assist customers through emergencies in real-time, successfully delivering relevant emergency contact details and instructions required.
Find out how a knowledge base can benefit the contact centre, here.
Chatbots Contribute to Agent Satisfaction
Contact centre chatbots, contrary to popular belief, don't hinder agents, rather they have the capabilities to enhance their quality of work and job satisfaction.
When the vast majority of queries that come through the contact centre are the same mundane routine questions and monotonous tasks, this can take a toll on your agents – causing drive and morale to decline.
However, these routine questions can be dealt with at scale through AI, using chatbots, creating a greater bandwidth for your agents to which they can deal with more complicated, non-routine issues. When agents are able to dedicate their attention to helping customers with serious or complicated enquires it adds variety and purpose to their roles, which in turn contributes to job enrichment and motivation.
It's no revelation that when employees are happy, this is reflected positively through their quality of work. So, when chatbots are introduced into the ecosystem, agents not only develop skills quicker but they are supported and happier at work, which has an impact on the service that customers receive, enhancing CSAT.
Chatbots Make Your Contact Centre More Efficient
Many company's customer service and contact centre operations lack efficiency, particularly when it comes to the mechanics of the contact channels. Too often expensive agent-assisted channels are unnecessarily exhausted, or low-cost AI-powered channels are not utilised or difficult to find.
This is where chatbot solutions can assist the contact centre's efficiency. Ultimately, when configured correctly, chatbots can sort queries into the correct channels, avoiding unnecessary costs. For example, if a chatbot is configured to be a customer's first port of call for customer support it can either:
A. Deal with the customer's routine query successfully
B. Or, detect that the customer's query is non-routine and requires human assistance, automatically escalating the customer to an agent-assisted channel such as live chat
Through automation, chatbots can deal with routine questions significantly quicker than humans. There are many time variables when it comes to manually opening, replying, researching and resolving just one customer query compared to AI handling everything. This cuts your operational costs considerably, accounting for up to 30% support cost reductions.
Read: The 8 Biggest Chatbot Mistakes That Are Costing You Money
A chatbot not only escalates a query when it is non-routine, but it can also be configured to escalate to an agent-assisted channel based on the keywords the customer enters. Trigger management settings enable this escalation to take place based on certain keywords, for example, those that indicate urgency, such as "renew" or "cancellation". By putting these customers in touch with a human that can efficiently deal with the matter, customer churn is reduced and revenue is increased.
Pair this with chatbots' intelligent smart forms integration which collects targeted information from the customer throughout their journey and significant time is saved, slashing overall AHT.
Further, contact centres can become more efficient by utilising the data that chatbot technology produces. With detailed analytics revealing what customers are asking and article effectiveness, you can be in the know about current customer trends or issues. As a result, you can proactively better equip agents, building such intelligence into agent scripting and other learning tools.
---
If you enjoyed this article and would like to know more about chatbots, you can read our guide, here. or, If you would like any advice or assistance with contact centre chatbots