A knowledge base can prove particularly effective for contact centres that serve more than one client. Multi-tenant contact centres benefit from intelligent knowledge bases by equipping agents with multiple knowledge libraries full of content that is simple to access and navigate.
With 93% of customer service teams believing that customer expectations are higher than before, it has never been more important to deploy a knowledge base at the centre of your contact centre.

Serving Multi-Tenant Contact Centres Using A Knowledge Base
Muti-tenant contact centres that serve multiple companies' customers simultaneously need quick and convenient access to specific information. It is likely that once an agent has resolved one customer's issue, the next customer that they deal with will be from a different company. It is therefore important that access to multiple companies' information is seamless to keep handling times low and prevent mistakes.
This is where a knowledge base that includes multiple views transforms contact centre efficiency.
Each view contains a set of knowledge articles that are written for a particular audience. For instance, if your contact centre handles customer service for five different companies, then you will have five separate views within your knowledge base.
Agents simply filter by view inside the internal knowledge which is as easy as ticking a box. From here they have quick access to knowledge articles depending on the customer that contacts them.

How To Choose A Knowledge Base For The Contact Centre
If you are considering a knowledge base for the contact centre but are not sure which is right for you, we have got you covered. We have compiled some key considerations for you during the vendor selection process which will help you find the best software for you:
1. Does The Knowledge Base Utilise NLP?
A knowledge base that is built on AI and harnesses powerful Natural Language Processing (NLP) can significantly contribute to efficiency in the contact centre.
When an agent is helping a customer, they type the query into the knowledge base. NLP unravels the query, analysing components such as keywords, grammar, intent and popularity and comparing with the knowledge base to return the best, most relevant results.
This reduces Average Handling Times (AHT) impacting on customer satisfaction and contact centre efficiency.
2. Does The Knowledge Base Allow Multiple Views?
An essential consideration for multi-tenant contact centres, selecting a knowledge base that utilises multiple views helps you frictionlessly handles customer service for multiple companies at once.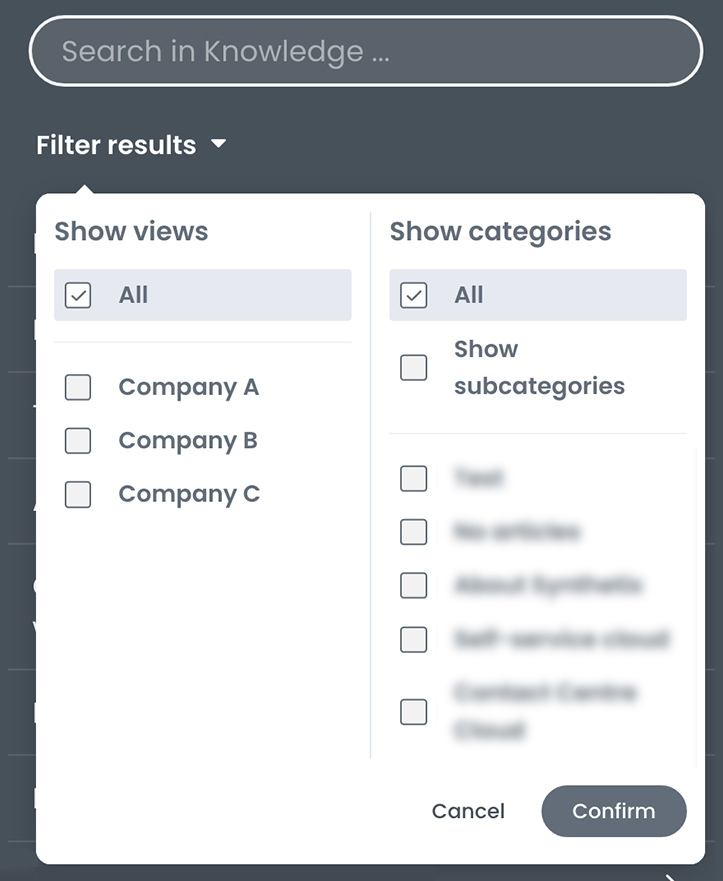 3. Are AI-Predictive Suggestions Included?

A key consideration during the knowledge base selection process is if the software includes AI-predictive suggestions.
This feature helps agents produce relevant answers for customers quickly and relies on powerful Natural Language Processing. When an agent begins to type the customer query into the knowledge base, NLP gets to work and on each key-press recommends a relevant article based on what is being entered.
Implementing a knowledge base that includes such features can reduce Average Handling Times (AHT) by 25%, which in turn has a hugely positive impact on CSAT. Instead of agent rummaging through resources to find the correct resolution, AI-predictive suggestions does that for you.
4. Does The Knowledge Base Encourage Collaboration?
Within the multi-tenant contact centre, transparency and collaboration are key. It's important that agents can voice their opinions and comments regarding articles when necessary. Perhaps an agent notices that the information in an article is misleading that a link does not load properly.
This is when collaboration is fundamental. Giving agents the power to flag an article when there is an issue and leave a comment explaining why with suggestions promotes proactive optimisation and is key to efficiency.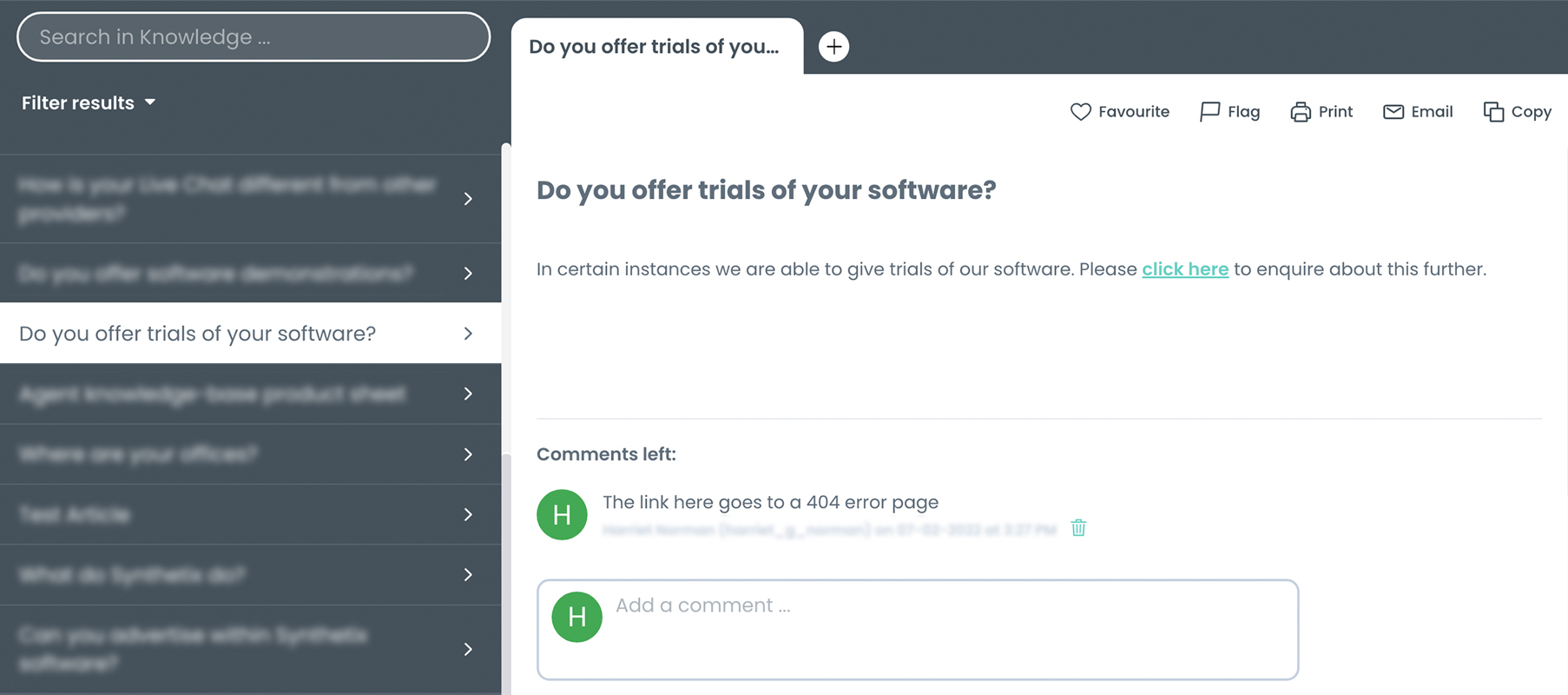 5. Are Analytics Included For Knowledge Optimisation?
Not only can knowledge base analytics help to monitor the performance and productivity of agents but they can offer insights into how to improve the content that resides inside your knowledge base.
Some metrics tell us your top-performing articles and categories which can tell us:
When customer behaviour changes or perhaps when trends are occurring.
If an issue is impacting the company; you notice a spike in the category "Faults" and investigate further to find that articles regarding product faults and refunds have also fluctuated.
Other metrics give us insight into what agents are typing into the knowledge base. There is value in analysing this data as often you might find that topics that have been searched for do not yet exist as articles. This is where it is crucial to CX that articles are created.
6. Is A Customer Feedback Loop Included?
It's important to know that your knowledge base and contact centre is always serving customers effectively. But without continual evaluation, there is no way of knowing that customers are receiving an excellent service every time.
Customer feedback loops are vital for knowledge optimisation. You can configure the questions yourself to determine what will be asked and the results are compiled together in a graph.


For instance, if find a spike in the data where people answered "No" to "Did we answer your questions?", you can investigate whether the contents of the article that agents were referring to have an issue or whether it is something else.
7. Can The Knowledge Base Integrate With 3rd Party Apps?
For multi-tenant contact centres, having a knowledge base that seamlessly integrates with other 3rd party apps is crucial. Your clients will each rely on their own business tools, just like you do as a company. It is therefore vital that a knowledge base has the capability to integrate with other software where necessary.
Choose knowledge base software that is built with open RESTful APIs for the frictionless, 2-way sharing or data with other key business tools.
8. Does The Vendor Offer Flexible Pricing Models?
Before choosing a knowledge base vendor it is important to consider:
Are your levels of customer contact consistent or is there a significant seasonal variance?
Are you planning on scaling operations? Or do you wish to optimise your operations with a set team size?
The answers to these questions will inform the kind of pricing model you require. Discuss these needs with the vendor before committing and ensure they offer flexible and session-based models.
---
If you enjoyed this article and would like to find out more about knowledge management, visit our guide here or for help selecting a knowledge base vendor, please