Synthetix have the complete platform of customer service tools.
Book a demo of any of our products below
These 18 tips offer recommendations and best practices to help improve live chat for customer service.
Ensure Live Chat Is Aligned with Your Business Goals
Configure Trigger Management for Maximum Lead Generation
Put Your Brand's Stamp on It
Use Smart Web Forms for Pre-Qualification
Manage Customer Expectations When It Comes to Live Chat
Ensure Live Chat Supports File Transfer
Offer Live Chat Feedback Surveys
Integrate Live Chat with Centralised Knowledge for Consistency
Integrate Live Chat with Your CRM And Other 3rd Party Apps
Compliment Live Chat With AI-Powered Chatbots
Consider Live Chat's Role in The Holistic Customer Journey
Make Use of Integrations That Handle Personal Data Securely
Use A Live Keypress Feed for Reduced AHT
Use AI Predictive Suggestions and Integrated Knowledge for Accuracy
Ensure Chat Transfer Is Seamless to Enhanced FCR
Study Live Chat Metrics for Continual Optimisation
Focus on ESAT If You Want to Improve CSAT
Utilise Agent Scripting
1. Ensure Live Chat Is Aligned with Your Business Goals
When implementing live chat into your wider offering it's important to consider your wider business goals, which might surround:
Operational efficiency
Cost reduction
Customer Experience
Customer Satisfaction
Firstly, ensure all employees involved are clear on why live chat is being deployed and to which business goal it will help achieve. Having everyone on the same page, working towards a clear goal creates transparency and drive. This also ensures the utilisation of live chat for customer service teams.
It's vital that live chat aligns to such business goals and their subsequent objectives as well as integrating well into your customer service ecosystem. This makes operations smoother, knowledge sharing easier, visibility greater which creates enhanced customer service.
---
2. Configure Trigger Management for Maximum Lead Generation
When configured correctly, live chat contributes to lead and revenue generation. Trigger management options let you determine when your live chat is displayed, made available or even pops up.
Live chat is configured to trigger when certain conditions are met, this might include when a visitor has spent a certain amount of time on the site, indicating they require help, or when a visitor lands on a particular product page signalling their interest. By simply letting them know someone is here to help, the chances of lead and revenue generation increases.
Similarly, a visitor might reach the website cart page, spending a few minutes here because they need a question answering – a trigger set up here can resolve this and lead to a sale that would otherwise have been lost without the presence of live chat.
---
3. Put Your Brand's Stamp on It
Your live chat page, widget or pop-up is an opportunity to showcase your brand. Personify your brand attributes and personality through the many customisable features that live chat offers. This can be visually represented through colour schemes and logos to creates brand familiarity or to show your brand's tone of voice, canned responses can be configured to include quirks that match your brand guidelines.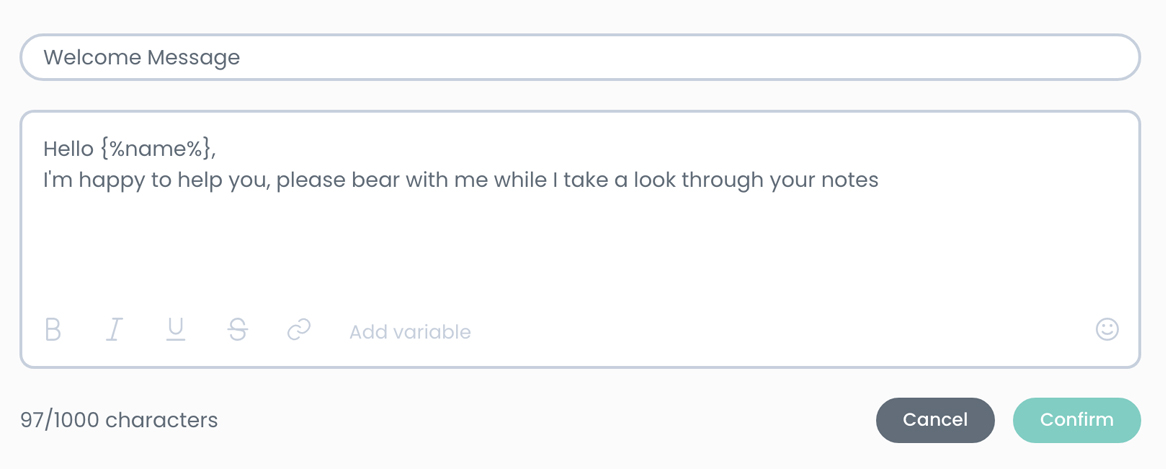 Further, it is good practice to include tone of voice and brand personality training in the onboarding process, agent scripts should also utilise this.
---
4. Use Smart Web Forms for Pre-Qualification
When it comes to live chat for customer service optimisation, agent time is precious. To get the most out of agent time, pre-qualify customers using smart web forms. Capturing all relevant data before the chat takes place can save significant agent time, especially when you consider just how many chats one agent might deal with over a day.
Smart web forms can be configured to capture the following data pre-chat:
Full name
Email address
Enquiry details
Custom fields if required
Companies might include just some or all of these fields depending on their needs.
---
5. Manage Customer Expectations When It Comes to Live Chat
There is nothing more frustrating for your customers than expecting to be put in touch with an agent via your live chat and instead waits in a 'queue' for hours before giving up. Your customers did not receive the service they expected and as a result, become angry and frustrated, leading to poor CSAT.
What is important in such instances, for example when agents are not available due operating hours, that expectations are managed. Ensure settings are configured to remove live chat as an available option as well as making operating hours clear.
You can also consult the analytics section of your live chat interface , where data will help you determine how many agents you require to fulfil chat volumes.
Check out our 2021 Live Chat Buyer's Guide, here.
---
6. Ensure Live Chat Supports File Transfer
The queries that your agents handle through live chat cannot always be solved using text alone, often the more complex issues require file transfer capabilities. This might include:
Images
Videos
Screenshots
Documents such as Word or PDF files
---
7. Offer Live Chat Feedback Surveys
Offer your customers a feedback survey once their chat has ended. Asking questions about the chat itself, the agent and quality of resolution can reveal a lot about operations.
Collect and study such data to find out what you're excelling at and what might need improving. This practice should be constantly carried out to encourage optimal CSAT and CX.
---
8. Integrate Live Chat with Centralised Knowledge for Consistency
Integrating your live chat solution with your centralised knowledge is key to providing accurate and consistent information both to customers but also internally.
By utilising knowledge base software , all relevant knowledge can be stored in one place to avoid errors and inaccuracies associated with multiple knowledge sources. By integrating live chat with a knowledge base, you can be assured that all information served to customers is regulated and fed from the same source as other customer service tools.
In addition, such integrations enable agents to look up results quickly and easily via the same UI as their live chat console, saving time and making their jobs easier.
---
9. Integrate Live Chat with Your CRM And Other 3rd Party Apps
Having your live chat, that collects valuable data on customers and your CRM platform, that stores this data, communicate with each other is fundamental. Not only does the integration enable automations that populate fields in your CRM based on the chat, but it creates a holistic view of the customer for your account managers – with data from entry to exit.
Choose live chat software that is built using open RESTful APIs to ensure quick and seamless integrations and two-way data sharing between live chat and your CRM.
---
10. Compliment Live Chat With AI-Powered Chatbots
Agent-assisted channels such as live chat often receive unnecessarily large volumes of routine questions. Chatbots can provide huge support to live chat by handling these routine questions through AI and subsequently freeing up the channel. The effect of which means that live chat agents can deal with the type of query they are trained to deal with – individual and complex.
By incorporating AI chatbots into your offering, automatic escalation to live chat channels take place. In instances where AI cannot find a solution to a non-routine query, the customer is seamlessly transferred to live chat, via the same window.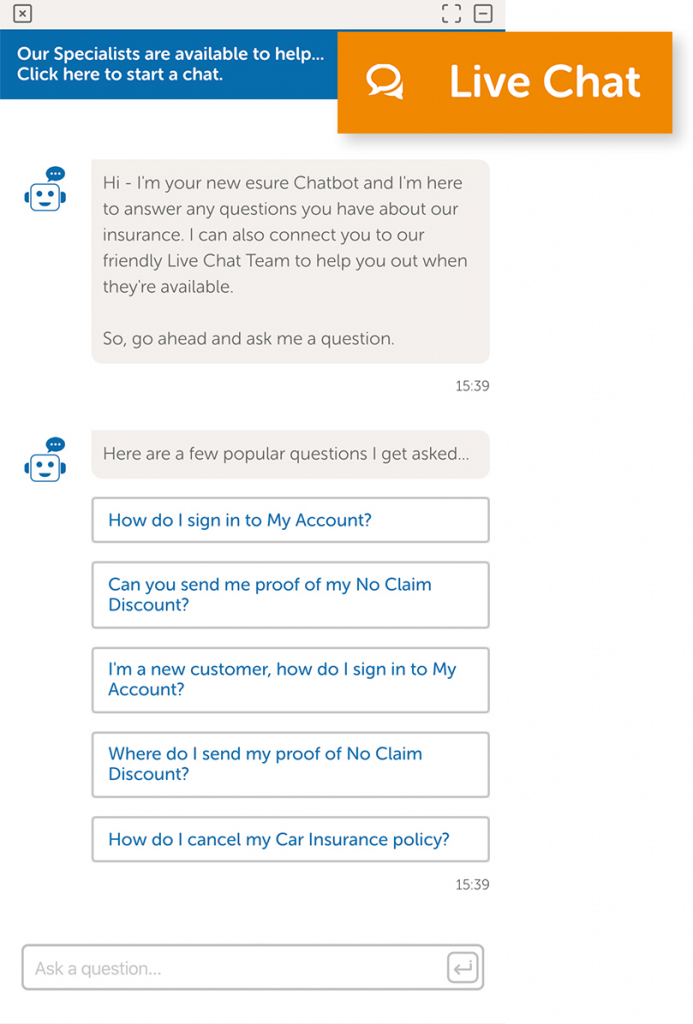 Further, such chatbots can be configured to automatically escalate to live chat when certain keywords are entered, for instance, "Renew" or "Emergency". These keywords indicate urgency and therefore require human assistance.
---
11. Consider Live Chat's Role in The Holistic Customer Journey
It's important that the role of live chat as part of the wider customer journey has been considered. There is a multitude of potential customer journeys and its good practice to map the most common out.
Whilst live chat for customer service is necessary, not everyone that uses the channel needs to, a lot of queries and tasks can be dealt with using self-service tools and chatbots. Emphasise these self-service tools, so that they are your customers first port of call, not are they significantly cheaper to run, but according to one study , 73% of people said they preferred to use a website's self-service instead of live chat and other channels.
For enhanced CX and CSAT through quickfire answers to routine questions, put self-service at the forefront of your offering, but ensure that effective escalation points are set up for when agent assistance is required. Additionally, do not make live chat impossible to find – customers recognise when they require human-assisted support.
---
12. Make Use of Integrations That Handle Personal Data Securely
Integrate your live chat with Identification & Verification (ID&V) software that securely handles customer data to confirm identities. ID&V takes care of this whole process for you so that confidential account information does not need to be dealt with by agents. The secure questioning process simply tells your agent whether ID&V was successful and they can commence with the task at hand.
Your live chat can also facilitate secure payments through PCI partners, taking place in the same window for your customer's convenience and your brand's credibility.
---
13. Use A Live Keypress Feed for Reduced AHT
Live keypress feed is a feature utilised by agents for efficiency. It allows them to see what the customer is typing before they have pressed send. This lets the agent solve the customer query often before it has been sent, saving significant time in the long run.
Live chat that includes live keypress feed helps to slash AHT, which benefits both agent productivity and CSAT.
---
14. Use AI Predictive Suggestions and Integrated Knowledge for Accuracy
Another helpful feature that exists within the agent interface includes AI predictive suggestions. When live chat is integrated with centralised knowledge, your agents can view a mini knowledge base in the same window as the chat itself, which makes looking up a topic or article simple.
AI predictive suggestions work with the mini knowledge base by suggesting relevant knowledge articles as the customer types their query.
These features help to ensure that the knowledge that is shared with customers is accurate and in line with what the centralised knowledge base says.
---
15. Ensure Chat Transfer Is Seamless to Enhanced FCR
Your agents all specialise in different areas, whether its complaints, renewals, sales or insurance. Therefore, it's best practice that the chats surrounding each area are transferred to the appropriate agents. This is not only important in ensuring that customers receive relevant expert help, but by offering smooth transitions, First Contact Resolution (FCR) is improved.
Before joining a chat, customers generally pre-select the area that they require help with and this puts them in touch with an agent who has the relevant skillset. However, in some instances, customers might require help in more than one area or an agent believes a different skillset would be more suitable. This is when a seamless transfer from agent to agent is critical – this should all take place timely and within the same window so that the customer is not inconvenienced.
---
16. Study Live Chat Metrics for Continual Optimisation
It's vital that your live chat software includes comprehensive metrics that can be analysed to influence key decision-making and continual optimisation. Both agent performance and knowledge article metrics are particularly useful in improving operations over time.
Live chat software collects data and compiles it into visuals and graphs that reveal where improvements must be made, areas that need flagging or interesting behaviours and insights. All of these can contribute to crucial decision-making and change that ultimately enhance operations and output.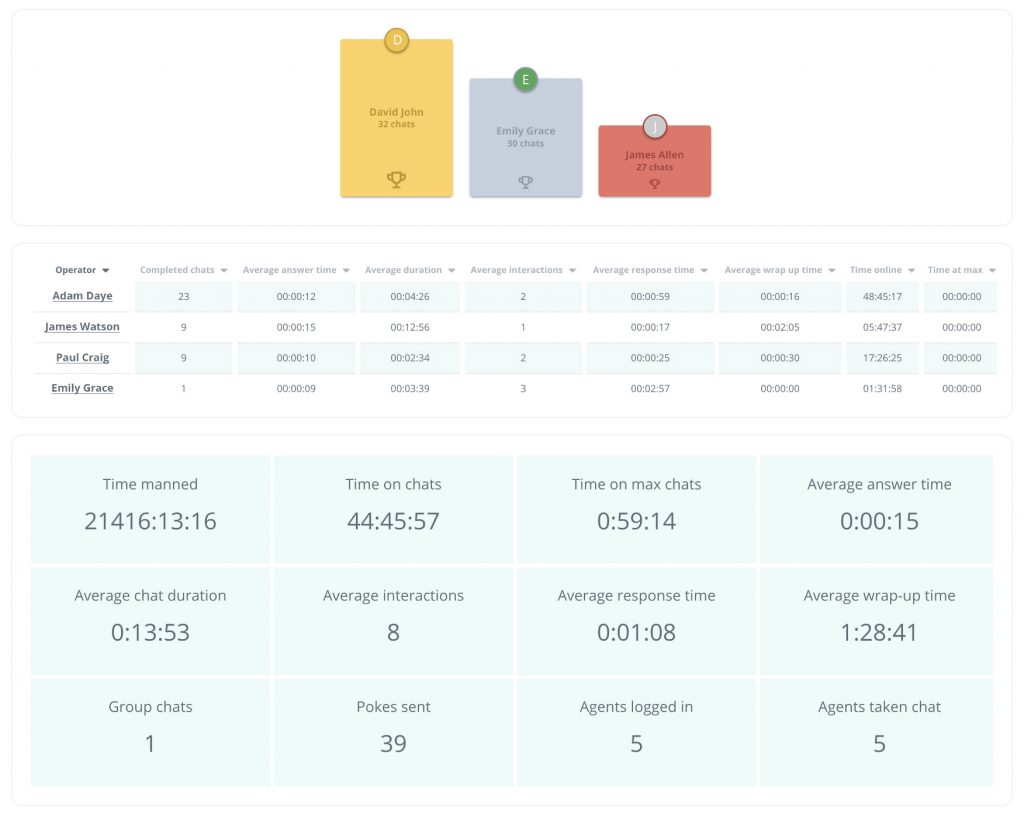 ---
17. Focus on ESAT If You Want to Improve CSAT
It's no revelation that when your employees are happy at work, it's reflected through their productivity, attitude and quality of work. Satisfying agents' hygiene factors is a given, but what is effective in contributing to employee satisfaction (ESAT) is equipping them with tools that empower them.
Live chat that integrates with other business tools, offers a live keypress feed, AI-predictive suggestions, integrated knowledge and other features helps agents to:
Hit targets quicker
Become experts in multiple areas
Help more customers with a wide range of issues
All of which can lead to job enrichment and a sense of purpose at work, which in turn improves ESAT.
---
18. Utilise Agent Scripting
Agent scripting that is built and customised using decision tree technology can have positive impacts on AHT and FCR. Contrary to outdated, print-based scripts, decision trees allow supervisors to customise scripts by configuring a series of connected questions that guide your agents through complicated interactions with customers.
This gives your agents not only the independence to answer complex issues without supervisor intervention, but by doing so, costs are kept down and the customer journey remains smooth.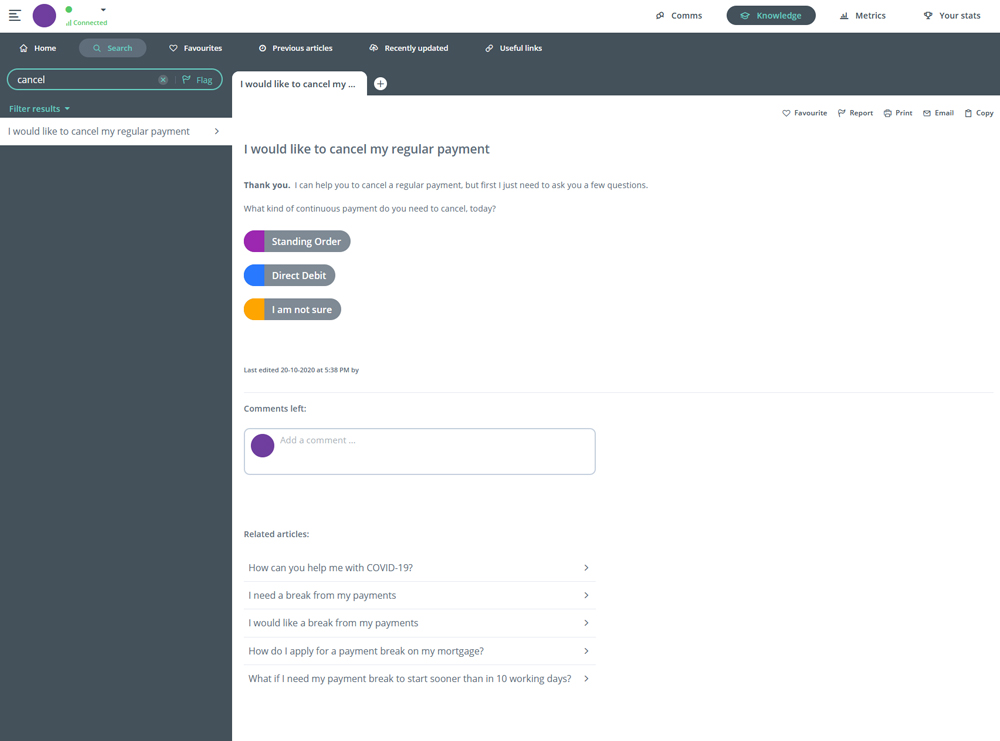 ---
If you enjoyed this article you can read more about live chat in our 101 guide, or if you would like to find out more about a live chat solution that includes the features discussed in this article, then please