Live Chat Knowledge Base Integration:
How Does It Work?
"The whole is greater than the sum of its part."
– Aristotle
This phrase rings true when it comes to live chat knowledge base integrations; whilst each tool provides value to customer service individually, when combined, that value becomes significantly greater.
Before exploring the importance of this integration, let's first unpack the impact that live chat and knowledge bases have individually on your wider customer service ecosystem.
Live Chat's Role in Customer Service
In your customer service offering, live chat provides your customers with a platform whereby they can communicate with agents who will communicate back. Unlike self-service contact channels such as chatbots or self-service pages that utilise AI to solve with queries, live chat is operated and solves customer queries using human intelligence.
Live chat solutions are particularly popular due to their low-cost and versatility. Compared with other agent-assisted channels such as telephony, live chat, which allows agents to deal with multiple queries simultaneously, is significantly cheaper to run.
From a customer perspective, live chat combines the depth that is provided by agent-assisted channels with the accessibility and convenience of an online channel. According to one study , 79% of customers preferred to use live chat because it offers instant responses.
For more on the basics of live chat software, check out this article.
A Knowledge Base's Role in Customer Service
A knowledge base's role in your wider offering is an important one, it is the core knowledge repository and where all information is stored, collected, shared and updated. From company guidebooks to pension policies and product spec sheets to agent scripting, a knowledge base stores everything relating to your company, products and services.
The purpose of a centralised knowledge base is to provide quick, convenient access to information, to the right people at the right time. A knowledge base is versatile and can be utilised both internally and externally in the following ways:
By employees looking for company information
By agents searching for knowledge articles that will answer customer queries
By customers and prospects who require information on the company, products or services
You can set up various knowledge base views to include or restrict certain articles being accessed depending on who the audience is.
This nucleus of customer service feeds all your key business and customer service tools to ensure that any information that is distributed, internally or externally is always consistent and accurate. Without knowledge bases in place, companies must deal with disorganised databases and scattered information that leads to unreliable knowledge sharing.
Why Integrate and How?
Companies with efficient and functional customer service recognise the importance and make use of the integration between live chat and knowledge base software. By connecting the two a synergy is created, greater control over knowledge is gained and the overall cohesion makes for more efficient, lower-cost operations.
The live chat knowledge base integration is popular due to its abilities to:
Improve AHT
Enhance CX
Promote agent productivity
Produce valuable analytics
Boost ESAT and CSAT
Reduce costs
Implementing the integration is straightforward. Providing that your software utilises low-code development, the integration can be set up and ready to use following the simple installation of code.
Live Chat Knowledge Base Integration: What Are the Benefits?
Reduce Distraction and Enhance AHT
The integration between live chat and knowledge base software encourages agent efficiency. The agent interface offers an integrated knowledge feature, otherwise known as 'mini knowledge', it gives agents quick access to knowledge articles in the same window as the chat console. From there, they can simply copy and paste an article straight into the chat.
The advantage here is the reduction of distraction and noise, agents no longer must open new windows to search for answers in often multiple, disorganised places. Consider the sheer volume of routine questions that agents receive on a daily basis – this process becomes cumbersome when repeatedly carried out, eating up significant, valuable agent time.
Not only does the integration between the tools reduce AHT considerably, but by providing your customers with faster answers, CSAT is impacted.
Consistency Makes for Better CX
The circulation of inconsistent, inaccurate information not only damages brand credibility but could lead to anything from a surge in customer complaints to legal action being taken against the company.
Not only does this integration make the knowledge base available to live chat agents when dealing with customers, but it also powers all self-service tools that live on your website – whether its a self-service FAQ page, chatbot or widget. This means that the same information accessed by customers via your self-service channels is the same as the information that agents send your customers via live chat.
Providing such consistency is not only important for brand but it gives customers the right answers the first time, removing the need for customers to search around for adequate resolutions after they're served inconsistent messages.
Optimal Agent Productivity Through Integration Features
By integrating live chat with your knowledge base, a series of features that contribute to productivity are unlocked. The live keypress feature that is made available in the agent interface allows agents to see what a customer is typing in real-time before they hit "send". This lets agents resolve issues often before the query has been sent, saving considerable time.
AI predictive suggestions features are also made available through the live chat knowledge base integration. As customers type their query, in real-time, AI predictive suggestions will recommend a series of relevant articles in the 'mini knowledge' section. This is hugely useful for agents who can simply copy and paste an article and send to the customer without having to search for anything or leave the current window.
Both features help to save agents significant time so they can focus on other tasks, therefore promoting productivity.
Performance and Article Metrics Are Activated
Connecting two powerful tools generates powerful results – and these should be measured. The integration provides you with detailed analytics on knowledge article insights, for example:
Search results: analytics that demonstrate the effectiveness of articles based on resolved queries, subsequently revealing the effectiveness of your knowledge base
Top queries: insights into not only customer behaviour and areas for improvement but also how well your team is resolving such queries and whether there is a gap that needs filling
Triggers: showing you where live chat and other tools have been triggered on your website and which trigger is most optimal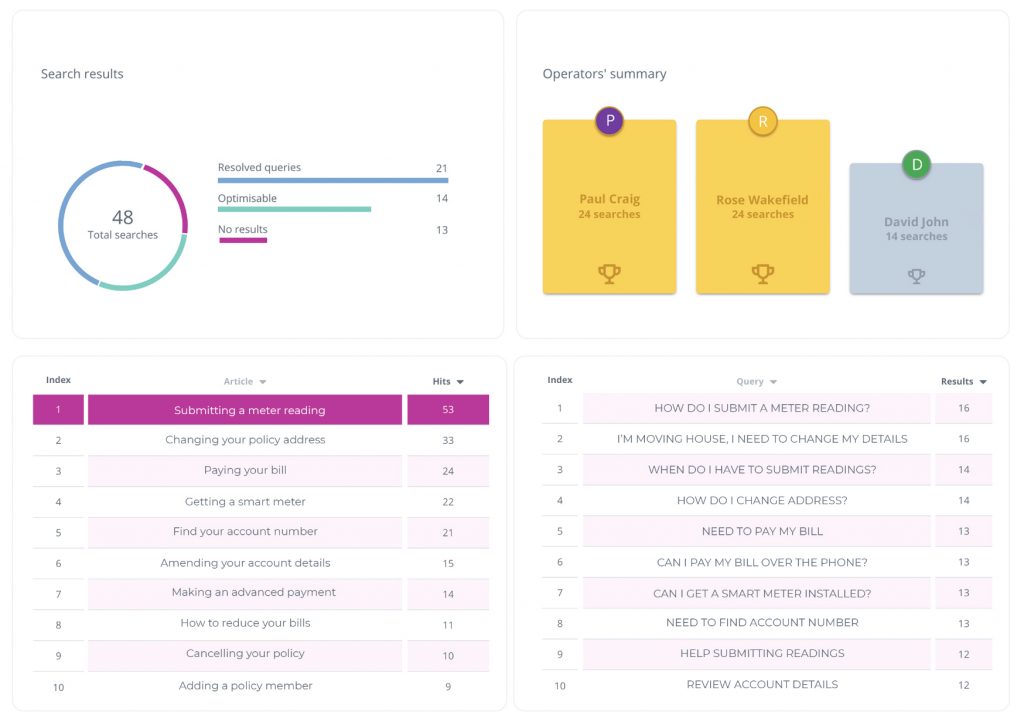 It can also help you measure agent performance with metrics such as:
Operator's summary: In-depth data showing agent handling times, user feedback, login times and many more metrics
User up-time: a holistic view of how your teams' time of spent, including data on login and logoff times, active chat times and breaks
Plus, gamified leaderboards to encourage healthy competition and agent progress awareness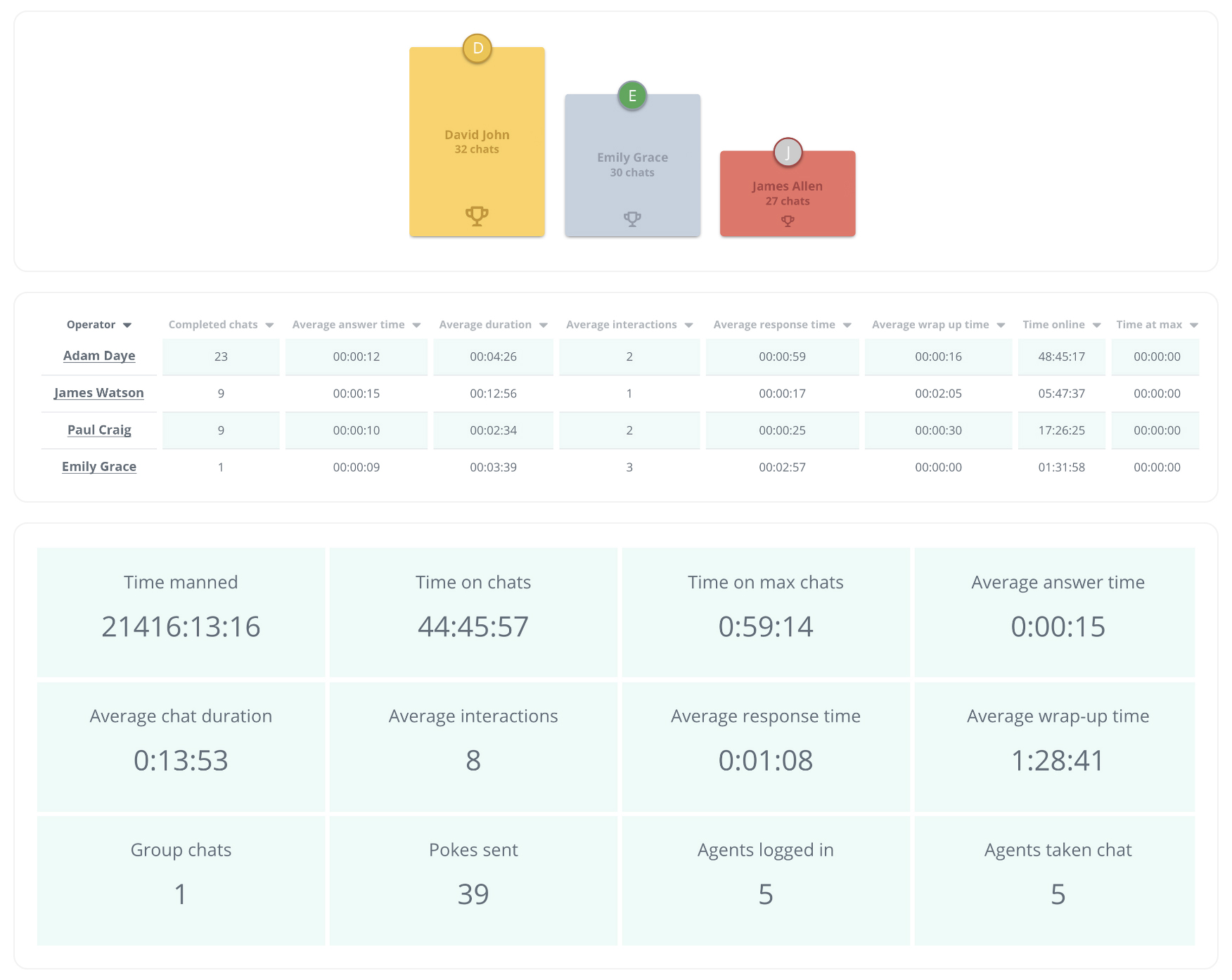 With regular monitoring and analysis, such analytics can be the answer to continual content and operational optimisation.
Boost ESAT To Boost CSAT
The integration between live chat and knowledge base makes agents' jobs much easier, providing them with features that simplify tasks, make knowledge articles more accessible and ultimately give them a head start on each chat they are assigned.
This relieves the pressure on agents who would otherwise be scrambling to find answers in messy, confusing databases and documents, all whilst hoping that the information they serve is up-to-date and accurate.
Instead, agents, equipped with the combined power of live chat and knowledge base features, learn how to quickly deal with routine questions and can therefore deal with larger volumes of complicated issues. This helps not only develop customer service skills but it provides agents with job satisfaction by resolving customers' serious issues.
The integration allows routine tasks to be completed efficiently so that agents can focus on more complex issues that prove rewarding. This contributes to employee satisfaction (ESAT), which has a huge impact on the way queries are dealt with, thus CSAT.
Cost-Efficiency
As an agent-assisted contact channel, live chat is an excellent choice for your customer service offering in terms of cost-efficiency. It proves far cheaper to run in comparison with other agent-assisted channels such as telephony which unlike live chat cannot deal with customers concurrently.
But when live chat integrates with knowledge base technology there further, significant savings to be made. Features included in the integration such as integrated knowledge ('mini knowledge base'), live keypress and AI predictive suggestions create small, incremental savings in agent time. When you consider how many agents are in a contact centre and how many customers they deal with in a day alone, this adds up to significant time savings, which of course brings your operational costs down.
Training costs are also reduced through the integration, the knowledge base itself is a training tool for new starters and gets them up to speed far quicker than costly training programmes.
---
If you enjoyed this article and would like to read more about live chat integrations, you can do so here. If you are interested in seeing the benefits of a live chat knowledge base integration, please