Why Live Chat Is Integral to Customer Support
Live chat is an agent-assisted customer support channel that utilises a familiar instant messaging format. Unlike other channels that rely on AI to serve customers, such as a chatbot solution that automates routines queries, live chat utilises human agents. Live chat is therefore ideal for handling customer queries that are non-routine or complex, those that cannot be solved using AI.
Where self-service tools utilise Artificial Intelligence to provide support, live chat utilises human intelligence.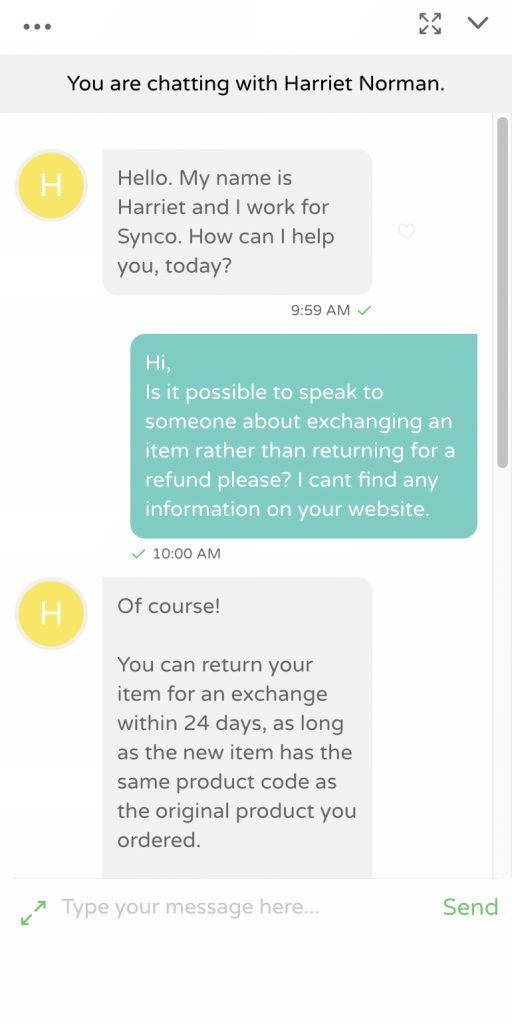 As a staple in the wider customer support ecosystem, when it comes to handling issues, live chat proves significantly cheaper than alternative agent-assisted channels such as email and telephony. With its multi-chat capability and features that speed up the resolution process, customers can be dealt with simultaneously and efficiently.
Read: 7 Reasons Online Live Chat Is Replacing Telephony
As a result of introducing live chat into their customer support offering, companies experience the following benefits:
Reduced contact centre costs – as a more cost-efficient channel, support costs are brought down significantly.
Improved CSAT and NPS ratings – CX is slick thanks to live chat, answers are instant and a personable touch is delivered.
Increased customer acquisition and retention – live chat has been proven to increase conversions by 20% .
Better ESAT – agents are empowered by the tool that allows them to simultaneously help customers.
Greater competitive advantage – by providing visitors with a more enjoyable website experience than competitors who don't offer live chat.
Fewer customer complaints – with quick access to agent assistance, long wait times are repetition are reduced.
Your Customers' Preferred Channel
Whilst digitisation has been underway for many decades, the recent and rapid shift to online consumption and services – largely driven by external forces and behavioural changes – means there is a far greater demand for online customer support than ever before.
It's therefore fundamental for businesses that they comply with their customers' fast-changing expectations of online customer support if they want to remain competitive – if their demands are not met, they will simply go elsewhere.
Live chat is favoured by customers for its convenience and real-time resolutions. In fact 79% of customers say they prefer live chat to other channels due to its instant responses. Not only is it loved by customers, providing them with a slick and smooth customer experience, but it is hugely beneficial for companies too.
How to Choose The Best Live Chat for Customer Support
When it comes to choosing the best live chat solution for your company, it's important to first consider a criterion – a set of must-haves that can't be compromised during the selection process.
To help, we have outlined the following key criterion required for choosing effective live chat software:
It Fits in Amongst Your Wider Customer Support Ecosystem
Live chat plays an important role when it comes to your wider customer support ecosystem. As a direct channel in which your customers can communicate with you, live chat if often the result of escalation. It is triggered by AI when non-routine questions cannot be resolved and therefore human intervention is required.
Here are some examples:
A customer finds your self-service page through an organic search result but is later escalated to live chat when AI detects the query is too complicated to solve.
A visitor lands on your website directly and after browsing through a few pages, engages with the chatbot that offers assistance. When the non-routine questions cannot be solved, the chatbot escalates the visitor to live chat.
On Facebook, a customer interacts with your page's bot that determines intent. Through integration, your customer, within the same window, is then escalated to a live chat agent who can help further.
To offer your customers the support they require and a smooth journey, the live chat solution you choose must be capable of connecting seamlessly with your key customer service tools. When it comes to the best live chat for customer support, integration is fundamental.
Its Pricing Model Is A Good Fit
It's important that the live chat software you choose has a pricing model that is right for your company, fitting your goals that surround the customer service channel.
Some companies for example, with a customer service team of 5 agents will require a smaller, more consumable contract. Whilst others, perhaps with larger contact centres might want to maximise the value returns of pricing models that operate at scale.
Either way, ensure you ask the questions surrounding your requirements and choose a live chat vendor that is flexible in its pricing models.
It Connects with Your Everyday Business Tools
It is equally as important that the live chat you choose for customer support can integrate with your everyday business tools. Such integrations not only allow the 2-way sharing of data across platforms, which improves CX and enriches your companywide knowledge capabilities but can automate the following:
Identification and verification (ID&V)
Adding and/or updating contacts in your CRM
Adding/removing a contact from a particular mailing list
Producing certain documentation upon customer request
And a multitude of other tasks
When considering the best live chat for customer support, make sure you look for open RESTful APIs that enable easy integrations. This is key for customer satisfaction and contact centre efficiency.
It Includes Features That Maximise Agent Efficiency
Live chat allows agents to deal with multiple customers simultaneously, which proves advantageous in comparison to telephony or email channels that can only tend to one customer's needs at a time.
Already the design of live chat is far more efficient than other agent-assisted channels, but the best live chat solutions offer additional features custom-built for boosting productivity in the contact centre.
For example, software that includes a live keypress feed decreases Average Handling Times (AHT) and consequently reduces support costs. This feature allows the agent to see what the customer is typing on every keypress, by the time they have hit "send", the agent has often had time to prepare a resolution.
Further, some live chat software vendors include AI-predictive suggestions that recommend knowledge articles in real-time based on what the customer is typing. AI analyses each keyword as it is typed and subsequently retrieves relevant results from the wider knowledge base for the agent to choose from. This saves precious agent time that would otherwise be spent searching through resources or consulting supervisors.
It Uses Custom Triggers to Proactively Offer Help
When it comes to choosing the best live chat for customer support, lead generation and sales, custom triggers are considered essential.
Custom triggers can be configured to launch live chat when certain conditions are met, for example:
When a certain amount of time is spent on the cart page, indicating that the visitor might require some last-minute help, live chat is triggered to pop up and offer help. This can be the difference between cart abandonment and a sale.
When a visitor has been browsing certain resources created to capture leads, a trigger fires and live chat offers help, qualifies the lead and automatically adds them to your CRM.
When a trigger keyword is entered by a customer, for example, "subscribe", "renew" or "upgrade" – those that are associated with revenue, live chat is automatically launched. This contributes to both retention and acquisition.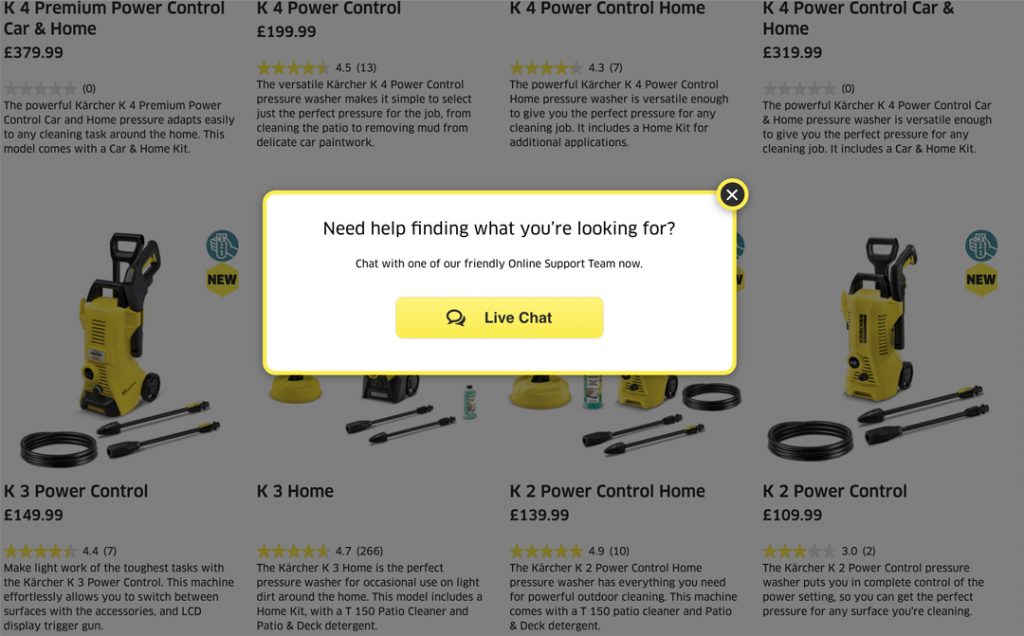 Your live chat solution is capable of dealing with much more than customer support – ensure it is powered by AI for maximum utilisation.
Its Implementation Is Quick and Effortless
It is fundamental that the implementation process, its timeline and expectations are discussed with a reputable and experienced vendor before choosing your live chat solution.
It is beneficial for companies and their customer support teams that live chat is up and running as soon as possible. Therefore, it is good practice to choose a vendor that adopts low code implementation, embedding live chat into your wider customer offering quickly and with ease.
This removes the requirement for cross-departmental involvement and hours of developer work. Instead, a simple line of code is installed and you are ready to go – you can begin helping customers, improving CSAT and enhancing CX.
---
If you enjoyed this article and would like to know more about live chat for customers support, you can read more here or, for help with software selection