What Is Knowledge Management?
Knowledge management, a key business function, is practised by a multitude of businesses to optimise knowledge, treating it an asset with significant monetary value attached. When implemented effectively, knowledge becomes embedded into a company's culture so that the collection, analysis, sharing and evaluation of knowledge is second nature.
Companies that implement knowledge management understand the significant value knowledge holds when it comes to business. When we consider how fundamental intellectual property, processes and patents once stemmed from knowledge, it's apparent why so many companies encourage the collection and sharing of knowledge.
When businesses have teams across multiple locations, knowledge becomes isolated and knowledge silos are formed. This can prove detrimental to business operations and innovation and only exacerbates as companies scale up. Knowledge management instead promotes a knowledge sharing culture which helps to tear down knowledge silos and retain important company knowledge. It also ensures that when an employee leaves a company, their tacit knowledge does not leave with them.
Further, knowledge management helps to bring new employees up to speed quickly, transforming them into experts through the knowledge that has been collected.
Businesses that implement and practice knowledge management benefit from:
A significant reduction to customer service support costs
Higher CSAT ratings
Efficient operations
Enhanced decision-making process
A cultural shift towards knowledge sharing
Empowered employees
Growth and innovation
For more on the fundamentals of knowledge management, click here.
What Is the Knowledge Management Process?
People, process and technology each play integral roles when it comes to implementing knowledge management. It's crucial that your company not only has a dedicated knowledge executive, someone who manages knowledge as an asset and knowledge management as a working machine, but what is fundamental in executing the discipline is the process you follow.
Whilst every business is different and there is no cookie-cutter approach to the knowledge management process, most commonly the following structure is utilised:
Discovery: What existing knowledge can be collected?
Capture: What undocumented knowledge can be extracted
Organise: Is the knowledge consumable?
Share: Is the knowledge accessible?
Evaluate: How can the knowledge be optimised further?
It's important that this process, or a variation of this process is followed for the successful deployment of knowledge management. Skipping or neglecting a step could prove detrimental to the final result.
Step 1: Discovery
Before Discovery, it is good practice to discuss knowledge management goals and objectives to provide your knowledge manager with clear direction as to what your company needs to know and what knowledge needs to be found.
Following this, the first step of the knowledge management process concerns the collection of any explicit knowledge that already exists within the company. Explicit knowledge is codified, consumable and can be easily communicated, some examples include:
Policies such as HR or returns policies
Processes such as Sales or product launch processes
Documents such as product specifications or supplier agreements
Reports such as marketing effectiveness and customer research
Due to its nature, the collection of explicit knowledge is straightforward but can take time.
Knowledge managers might discover explicit knowledge in shared company DMSs, CRMs, intranets and other records. Whilst this knowledge already exists, it is likely to be highly fragmented and therefore requires dedicated time to data-mine. Effective knowledge management software assists in semi-automating this otherwise time-consuming step.
Step 2: Capture
The Capture stage of the knowledge management process is responsible for extracting and capturing any tacit knowledge that exists within the company. Unlike explicit knowledge, tacit knowledge is generally difficult to identify, articulate and remains below the surface.
Tacit knowledge is learnt over many years, is usually utilised subconsciously and resides within the minds of senior employees, often becoming second nature to them. Because tacit knowledge is not easily communicated, specialist skills and methods are used in order to extract this incredibly valuable type of knowledge. Such methods include:
Observation
Interviews
Surveys
Retrospect (reflection meetings that take place after the completion of a project)
Knowledge harvesting (often involving senior employees)
Once tacit knowledge, for example, expert opinions on competitors or salesperson intuition on customer behaviours has been captured, it is the role of the knowledge manager to transform it into a digestible form.
Step 3: Organise
The purpose of knowledge management is to embed, share and teach knowledge to relevant audiences, therefore it is paramount that the knowledge itself is presented in a comprehensive yet simple and digestible way.
This means that your knowledge executive must translate the tacit data collected into consumable knowledge.
Deep analysis and skill are required to collect, unpick, combine and rebuild tacit knowledge into comprehendible articles that match the company's tone of voice and the entity in which the user is searching for.
Most businesses use knowledge base technology to simplify this process, ensuring control and organisation whilst knowledge is imported to one centralised repository.
Knowledge base providers that utilise Natural Language Processing (NLP), can even advise knowledge managers, flagging poorly structured titles and offering recommendation to improve them.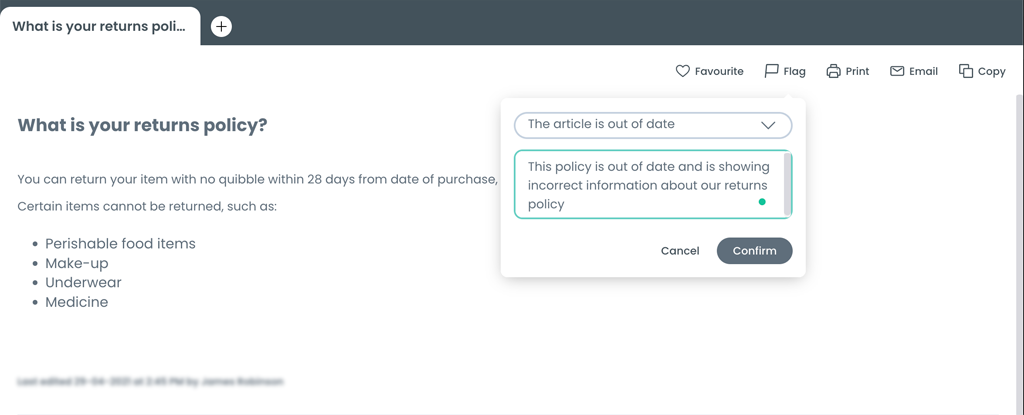 Step 5: Evaluate
The final stage of the knowledge management process is one that should be continuously carried out. It is responsible for ensuring that the knowledge stored and distributed is proving effective to its audiences. Without this step your knowledge becomes stagnant and knowledge management has no space to optimise.
For constant operational and knowledge improvements, your knowledge base analytics should measure:
Search result metrics:analytics that demonstrate the effectiveness of articles based on resolved queries, subsequently revealing the effectiveness of your knowledge base
Top query metrics: these provide key insights into customer trends and requirements, revealing where any content gaps are and areas for optimisation
Trigger metrics: these metrics show where certain tools trigger on your website, revealing effectiveness and how customers are interacting with your brand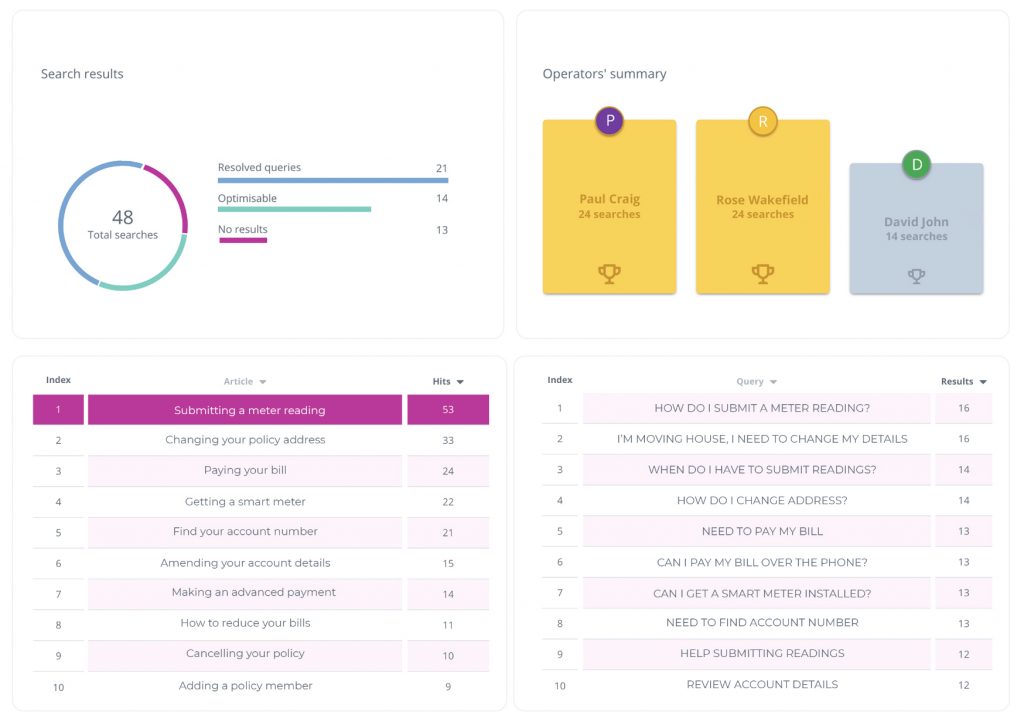 Facilitating Knowledge Management Through Software
Whilst people and process are fundamental to the implementation of knowledge management, without effective software in place the facilitation of the discipline would not be possible.
Most commonly a knowledge base is utilised to store, share and measure the effectiveness of your companywide knowledge, from HR policies to product troubleshooting videos. It acts as the nucleus of knowledge management and feeds all key business and customer service tools. This means that the internal knowledge base your agents use will produce the same articles as the self-service tools that your customers use, regardless of the way a query is phrased. It ensures consistency.
For smooth implementation and reliable maintenance of knowledge, look for software that:
Is powered using AI: This ensures your knowledge base is intuitive, delivering the fastest, most relevant results possible.
Harnesses powerful Natural Language Processing: Critical to CSAT and agent efficiency, NLP understands what is being asks and can therefore deliver the best answers.
Is built with the contact centre in mind: The knowledge base's agent interface includes features such as AI-predictive suggestions and integrated knowledge to save operational costs.
Is built with customer experience in mind: Customer facing tools such as self-service offer intelligent search and categories, as well as escalation to agent-assisted channels if necessary.
Includes seamless integrations: Connect with self-service tools, chatbots and live chat channels for consistent knowledge sharing.
Is implemented through low-code: With low-code implementation, knowledge management as a functional discipline can be up and running quickly.
Uses open RESTful APIs: In order to connect to your key 3rd party applications such as CRMs or email management tools.
---
If you enjoyed this article and would like to know more about knowledge management, you can read our guide here. Or if you would like any advice about knowledge management software or the process, please