Why Consider Live Chat for Your Website?
Live chat is an important part of the customer service toolkit and is utilised by a multitude of businesses. With 67% of companies in the B2C sector and 66% in the B2B sector using live chat for customer support, the adoption of this key contact channel is expected to further skyrocket, as the market's value is projected to reach $997 million by 2023, growing at a 7.5 CADGR.
Live chat facilitates two-way communications between your customers and agents, acting as a digital portal to which customers receive support, information and answers to their queries. Unlike self-service channels like chatbots or self-service FAQs that rely on AI, live chat utilises human intelligence to answer queries, making it the perfect solution for dealing with complicated non-routine questions.
Live chat is particularly popular within customer service because it's versatile and low-cost to run in comparison to other agent-assisted channels such as telephony that doesn't enable multiple queries to be solved simultaneously. Live chat for your website also offers the following benefits:
CSAT improvements
Enhanced CX
Agent satisfaction
Increased lead generation
Reduction in Average Handling Times (AHT)
Improved first Contact Resolution (FCR)
For more on how live chat can benefit your customer service operations, click here
How Does Live Chat Work?
Live Chat's Key Role in Customer Service
Live chat earns its place as a key player in the online customer service offering by supporting other contact channels to ensure FCR whilst presenting itself at opportune moments to boost CSAT and revenue generation.
When the AI that powers your self-service channels such as an FAQ widget or chatbot cannot handle a non-routine question, the customer is automatically escalated to live chat where an agent can deal with the complicated issue. This is facilitated through seamless integration, all taking place in the same window for optimal CX and FCR.
Live chat on your website can also be presented to your visitors in specific forms and at specific times. Trigger management settings are configured to trigger live chat when certain conditions are met, these might be based on pages visited or duration spent on your website.
Selecting Your Live Chat Vendor
When it comes to live chat for your website, the selection process might seem monotonous, but choosing an effective vendor is arguably the most critical part of live chat implementation and should therefore be done with care. It's good practice to conduct thorough research on multiple vendors to ensure you are delivered exactly what your company needs.
Whilst something might appear to be 'good value' at first glance, consider that in the long run, such solutions won't serve companies and their requirements to scale.
When choosing a live chat vendor, consider these points:
Does the vendor meet your requirements and have they presented you with a business case? This helps you understand ROI, the payback period and whether they offer a flexible commercial model aligning to your needs.
Does the live chat software integrate seamlessly with other key customer service and 3rd party tools? Knowledge sharing and access to AI-powered functionality improves operational efficiency – ensure the vendor can facilitate this effortlessly.
Does it offer features that encourage agent productivity? Features such as live keypress feed, AI-predictive suggestions and chat routing promote agent efficiency and satisfaction.
Does it offer features that contribute to CX? Trigger management, integration with other online tools and escalation capabilities help visitors get to where they need to be, enhancing CX.
Does the live chat software include comprehensive analytics? Intelligence on agent activity, showing handling times, user feedback, login times, logoff times, active chat times and breaks is key to optimisation. Gamified user stats can also encourage healthy competition between agents.
Live Chat for Your Website: The Implementation Process
Once a vendor has been selected and the SRS has been agreed, live chat deployment – that's being fully integrated, branded and up and running – should take a matter of days or weeks, depending on your business requirements and timeline.
The live chat implementation process will differ from company to company depending on its individual needs, but generally follows this structure:
Project kick-off meeting takes place: This is where key project expectations are discussed, including timelines, outcomes and functionality. It's an opportunity for your vendor to thoroughly understand your requirements when it comes to execution.
Design guidelines are discussed: You want your customer-facing live chat channel to represent your brand, this is where brand and design guidelines are shared so that they can be built into your software.
First look designs are shared: Once they are built, the first look designs are shared with you and your team to ensure they have been properly executed. This is an opportunity to suggest any amendments if necessary.
Draft integration code is created and sandbox environment access is granted: Now that you're happy with the design elements, your vendor will give you access to the sandbox environment where you can test the tool's functionality. Again, if there are any apparent issues, this is where they can be discussed.
Design is signed off: Once you and your team are satisfied, the design is signed off.
Agent training: The account manager that has supported you throughout the implementation process will conduct the agent training. This is to ensure that your team get the most out of live chat and know how to use each feature adequately.
Testing: Next, thorough testing is carried out to eliminate any issues that could affect the tool's effectiveness.
Final low-code integration is provided: The last step in the process is a simple one. It's what gets live chat up and running on your website and involves one line of code. This is given to your developers by the vendor to install and you're ready to go.
It's good practice to discuss the implementation process with vendors in advance to manage expectations and make sure that these steps are included.
Measuring Live Chat Effectiveness
You can't manage what you can't measure. To continue reaping the benefits provided by live chat and ensure its constant optimisation, its effectiveness must continuously be measured. This is carried out by the frequent analysis and close monitoring of both performance and knowledge effectiveness metrics.
Performance Metrics
This group of metrics helps you to determine agent productivity, by providing you with data on each agent and their chat metrics, issues can easily be identified and resolved. These metrics include:
Operator's Summary: This group of metrics gives a granular insight into agent activity, including, chat capacity, handling times, durations, user feedback, login times and more.
User Up-time: This demonstrates how your live chat teams' time is spent throughout the day, showing data on login times, logoff times, active chat times and breaks.
Gamified Leaderboards: Visible to agents, these visuals encourage healthy competition by highlighting agents who complete the most chats or receive the most favourable customer feedback.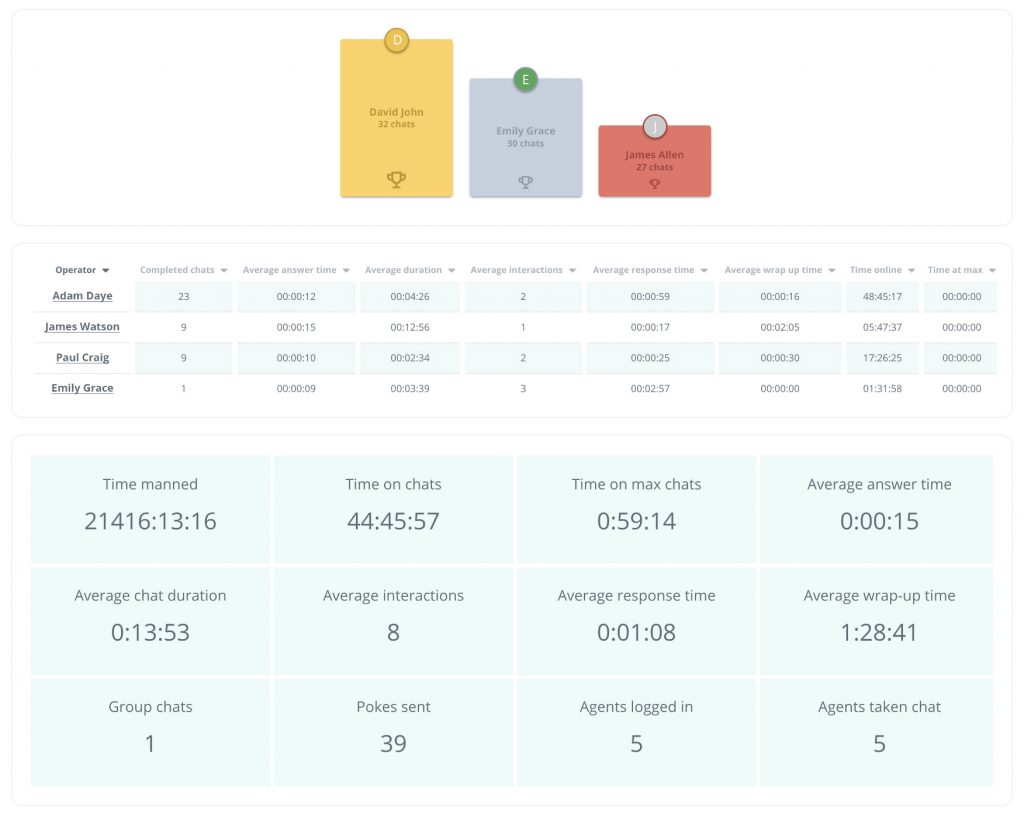 Knowledge Effectiveness Metrics
It's important to study knowledge-related metrics in order to understand if the content and knowledge articles being delivered to your customers are serving them effectively. This set of metrics include:
Search Result: This collects data on every article, revealing how effective each is at answering customer queries. By pulling top-level effectiveness insights you can see how many queries were resolved and how many were optimisable.
Top Queries: This set of metrics including, top queries, how many results were generated and whether it could be resolved, help to gain insight into your customers' behaviour and current needs, it can also help to reveal where any content gaps exist.
Triggers: Understand how well your configured triggers are performing with data that reveals where tools are being triggered on your website and which is most optimal.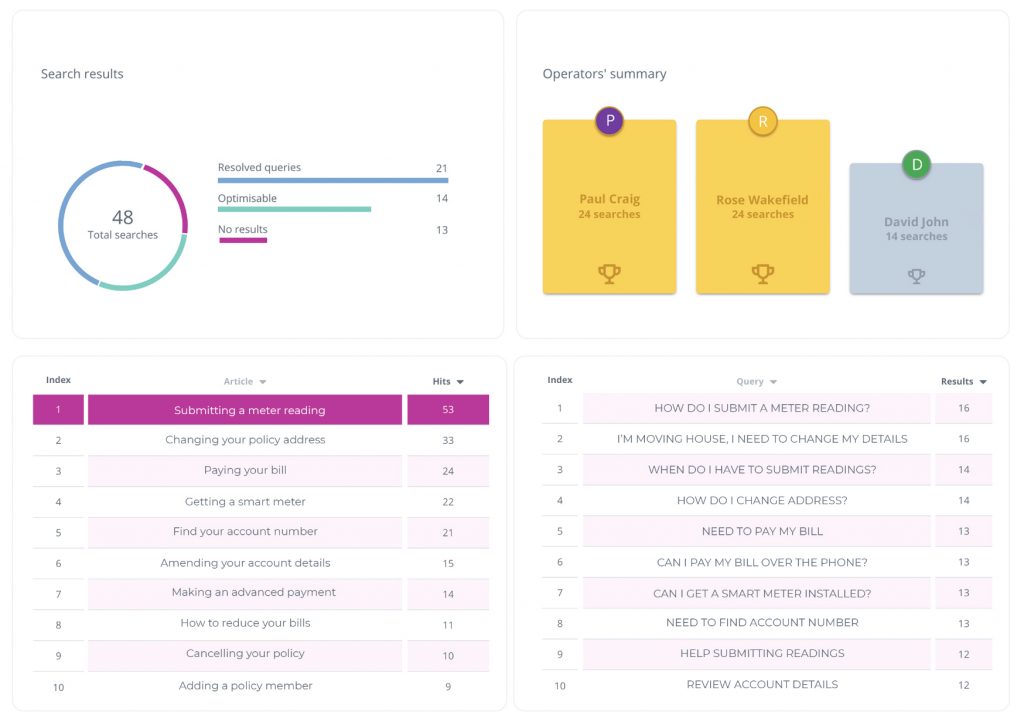 ---
If you enjoyed this article and would like to know more about live chat for your website, read our guide here. Or, if you'd like any advice on how to set up live chat, please