What Is Call Deflection?
Call deflection is the reduction of calls to the contact centre through alternative means of automated contact methods.
Call deflection is a fundamental focus for CX Managers and the contact centre for a number of reasons:
1. Handling Calls Is Expensive
When it comes to handling customer queries, some contact channels prove particularly more expensive than others. This is because they rely on human intelligence and therefore a wage, whereas those that are operated by AI do not.
Therefore it is no surprise that agent-assisted channels are more costly than AI-powered channels such as AI chatbots. In fact, a study revealed that call handling in the contact centre is significantly more expensive than other channels such as email and self-service channels including chatbots. 12,000% more expensive to be exact.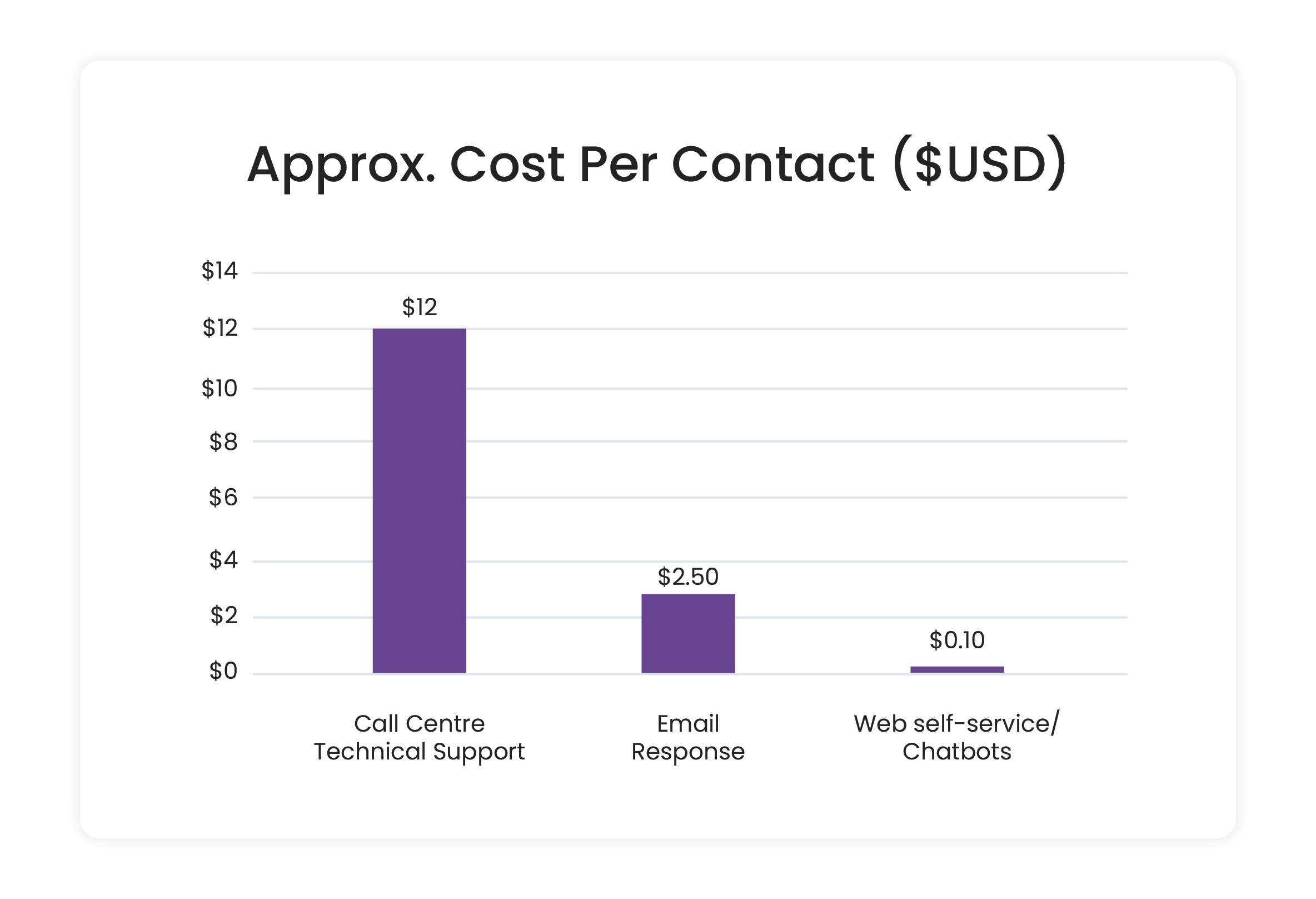 However, A large portion of the calls that reach the contact centre are simple, routine questions. The type that has one basic answer and does not require further investigation. Routine queries that are being dealt with in the contact centre are unnecessary costing companies when they could be automated using AI at just a fraction of the costs of call handling.
2. High Call Volumes Lead To Long Wait Times
Contact centres are designed to provide customers access to support when they need resolutions to complex issues. This category of issue is complicated and requires human discretion and emotional understanding – traits that cannot be replicated by AI.
So when phone lines become unnecessarily congested with an influx of routine queries – queries that have been misrouted – wait time is affected.
Long wait times cause frustration amongst customers, particularly for those that have complex issues that cannot be resolved using other contact channels. The knock-on effect of which can often reflect negatively in CSAT ratings.
3. Telephony Is Not Everyone's Preferred Contact Channel
For many customers, picking up the phone is not the preferred contact channel. In a study, 73% said they prefer to solve issues themselves using a company website or self-service method. 
Therefore if self-service is not included within your customer service offering, is difficult to navigate to or does not work effectively, there is a risk that CX will be affected. Particularly when so many have busy lifestyles and don't have the time to sit on hold, waiting for the line to become clear.
4. Disjointed Journeys Lead To Poor CX
Rarely is the user journey that involves telephony ever smooth. First, the user must source the correct contact number, wait on hold to speak to an agent, explain their query, only to be told that they will be transferred to another department where they must repeat their query.
This is not a smooth journey, nor will it result in positive CX. This disjointed type of journey leaves customers feeling undervalued and frustrated which is when they will begin to consider switching to a competitor, impacting customer retention and loyalty.
How To Deflect Calls With An AI Chatbot
Implementing an AI chatbot into your customer service ecosystem is an effective way to deflect calls to the contact centre. Built using AI, a chatbot automates routine queries and tasks, eliminating the need for users to pick up the phone, therefore reducing support costs.
This is how it works. Once a user lands on a certain page, the AI chatbot intercepts, asking if they need help with anything. When the user types in their routine query, the chatbot utilises advanced Natural Language Processing (NLP), unpicking the query, analysing each component to understand its intent.
Here is where sophisticated algorithms match the query with intent sets and present the user with the most relevant results. All of this is done via AI, removing any human involvement and drastically reducing the cost in which it would otherwise take to handle.
Not only this but those that prefer to self-service are satisfied, the user journey is streamlined, resulting in positive CX and for those that have genuine, complex issues, the phone line is far less congested, meaning queries can be dealt with efficiently.
What Else Does A Deflection Bot Do?
Traditionally, self-service channels such as chatbots were associated with the post-purchase segment of the buyer cycle, in particular helping customers with any issues they may have with the product or service they had purchased. However, more recently, chatbots are being used to assist in earlier stages of the buyer process.
An AI chatbot doubles up as a lead generation tool when implemented correctly. Not only does it have lead capture capabilities through its intelligent forms function, but you can configure chatbots to intercept the user journey during critical touchpoints, converting site visitors into hot leads.
Custom triggers are configured to launch the chatbot when certain conditions are met, for example on the cart page or when a certain amount of time has been spent on a product page. By proactively offering help during these critical moments, users have the opportunity to ask any last-minute questions, encouraging lead generation and conversions.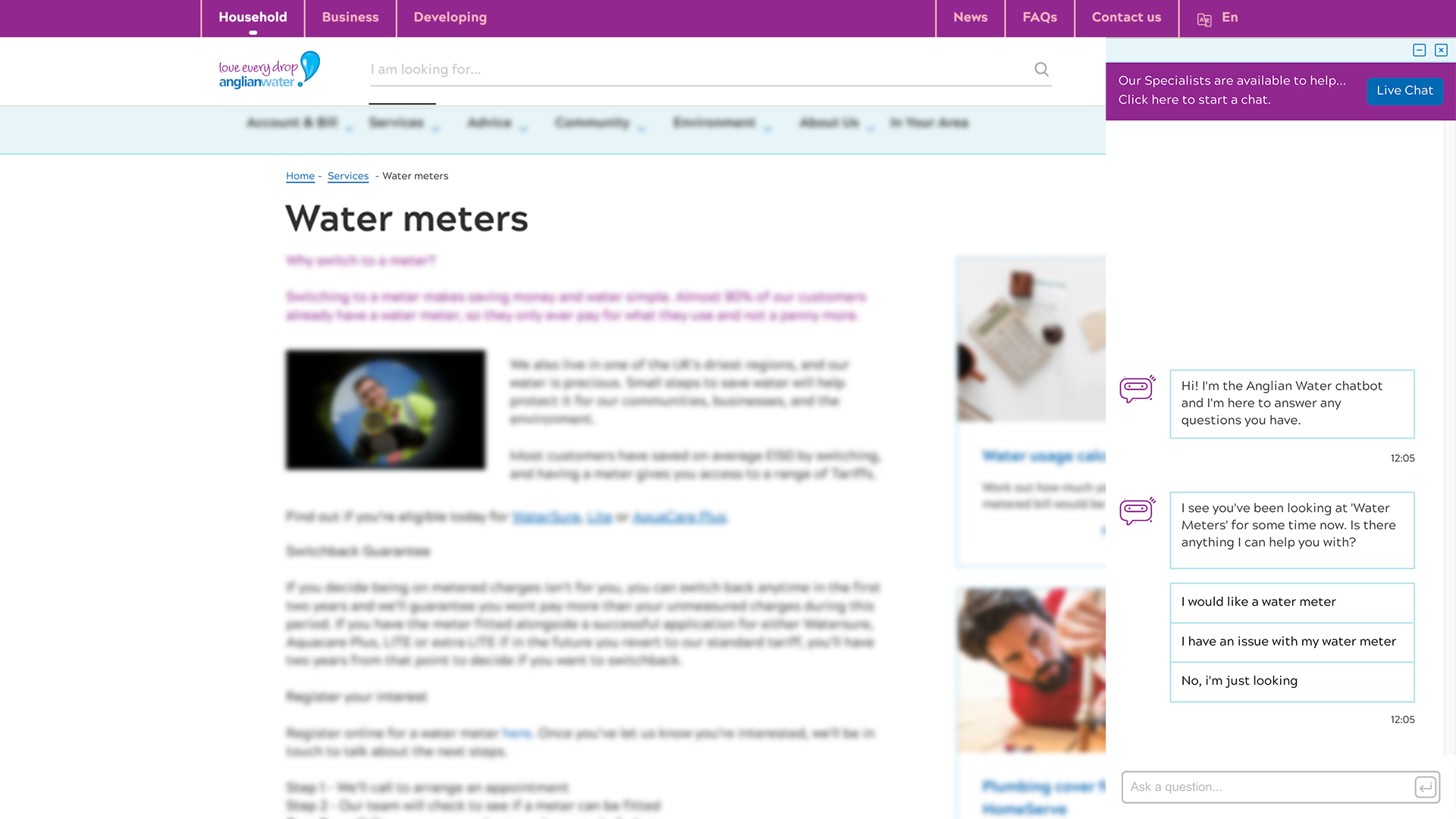 ---
If you enjoyed this article and would like to learn more about call deflection through AI chatbots, check out our guide, here. If you would like any assistance choosing a chatbot that is right for your business, please get in touch here.