With the global chatbot market expected to reach $102.29 billion by 2026, registering a CAGR of 34.75% over the forecast period, 2021 – 2026, it's critical that companies keep up with such CX trends and customer demands.
In this article we explore the advantages of chatbots in customer service:
Chatbots reduce support costs through automation
Chatbots enhance CX with seamless journeys
Chatbots boost CSAT through consistent, 24/7 support
Chatbots contribute to lead and revenue generation
Chatbots satisfy customers by offering smooth escalation
Chatbots channel your brand's personality
1. Chatbots Reduce Support Costs Through Automation
Customer service chatbots are powered by AI and use sophisticated Natural Language Processing (NLP) in order to resolve users' routine queries and tasks. Through harnessing NLP, chatbots understand user intent and can therefore serve accurate and relevant resolutions. In many ways, a chatbot takes on the role of a digital customer support agent – one that deals specifically with routine queries.
Chatbots can independently handle 20% of routine queries online.
Some chatbots enable Conversational Process Automation (CPA). By integrating with your core business tools, entire processes can be automated online. For instance, policy changes in the Insurance industry or meter readings in Utilities can take place completely online.
Now that these routine queries and tasks – that would otherwise reach the contact centre – can be handled through AI and totally online, support costs decrease. There is a myriad of contact centre costs associated with query handling that is reduced when a chatbot automates routine queries.
2. Chatbots Enhance CX With Seamless Journeys
Chatbots play an important role in the wider customer service journey. Acting as a digital CX concierge, chatbots can guide users through their entire journey if necessary, resolving queries along the way and ultimately helping them reach their end goal in the smoothest, most efficient way.
Some customer service chatbots utilise intelligent decision tree technology to provide additional support to your users.
Not every user will have a query that warrants a simple, 'one size fits all' resolution. But not every problem must be escalated to the contact centre. This is where decision tree technology compliments customer service chatbots. They help with problem-solving common problems that often require follow-up questioning to resolve.
Managers simply map these common user journeys out using simple drag and drop systems and the entire journey is automated, providing excellent CX.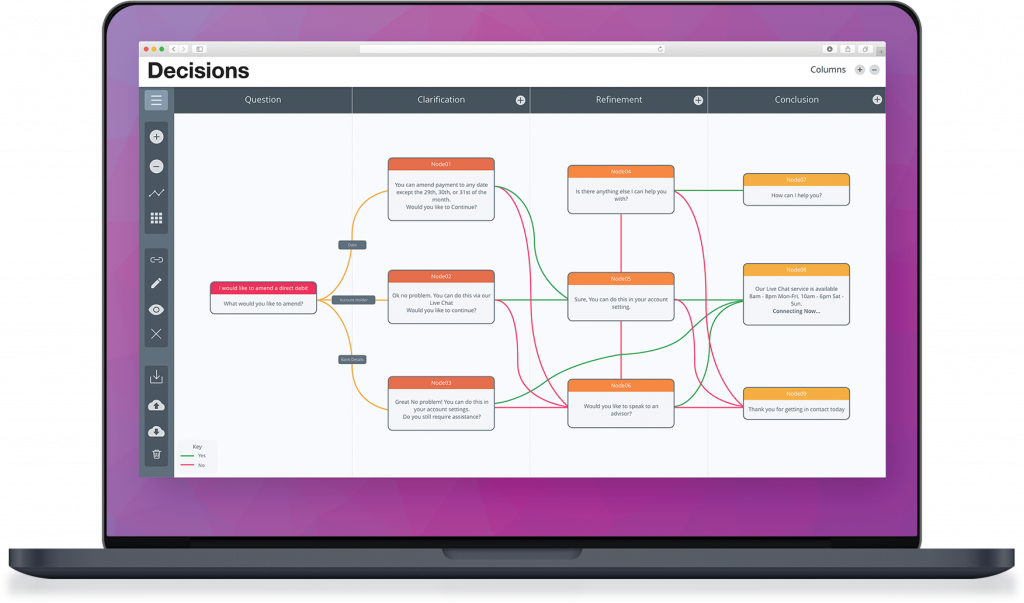 3. Chatbots Boost CSAT Through Consistent, 24/7 Support
Customer service chatbots are fuelled by one main source of information – an intelligent knowledge base. This is a library of knowledge articles that powers not only your chatbot and self-service platform but also powers the interface that agents consult when dealing with customers via live chat or directly over the phone. Because your flow of information to the public is derived from one source, it means accurate and consistent resolutions are served, avoiding problems that arise when misleading or inconsistent answers are given.
Issues for your customers will arise regardless of the time of day and for your CSAT ratings, it's critical that support is available 24/7 for those out of hours queries. Chatbots do not need to be manned or take breaks, they are available 24/7 and rely on AI to answer queries as opposed to human intelligence.
Using sophisticated NLP, Chatbots take each user query and by analysing each keyword, user intent, grammar and popularity, produce the very best, most relevant answers. Pair this will 24/7 support and chatbots are catalysts to customer satisfaction.
4. Chatbots Contribute To Lead And Revenue Generation
Chatbots that specialise in customer service include a level of customisation that, when configured correctly can increase your lead and revenue generation.
Using custom triggers, you can determine where your chatbot proactively offers users help, whether it be once they have hit a certain high-value page or when they have spent a certain amount of time on a page.
Customer service chatbots utilise sentiment analysis that helps to determine user urgency based on the keywords they use, for example, 'cancel' or 'order'. These signal that help is required, lead opportunity or even revenue generation. By proactively offering assistance at those critical user touchpoints, the chances of conversions taking place significantly increases.
5. Chatbots Satisfy Customers By Offering Smooth Escalation
There will always be occasions where customers have complex questions that cannot be solved using AI alone. This is where human intelligence and understanding is required. However, what happens all too often is users interact with a company's self-service tools to find that their query cannot be solved there. This is when they have to source agent-assisted channels, repeat the process and their query and time is wasted.
With an AI-powered customer service chatbot, users are automatically escalated to agent-assisted channels such as live chat when the chatbot detects that the query is too complex by nature for AI to solve. The escalation takes place within the same window and transcripts are transferred to avoid any user repetition taking place.
By streamlining this often onerous process, CX is enhanced and this reflects positively in customer satisfaction feedback.
6. Chatbots Channel Your Brand's Personality
Implementing a chatbot into your online offering is not only a means to improve CX and customer service but also a branding opportunity.
Some customer chatbots include additional search layers that can be customised to fit your brand personality. This is where any quirks or idiosyncrasies that match your culture and character can be configured.
It makes the customer journey more enjoyable, replacing the same boring responses whilst injecting a piece of your brand personality.
---
If you enjoyed this article and would like to find out how your company could benefit from customer service chatbots, you can read our guide or