Decisions Trees & Agent Scripting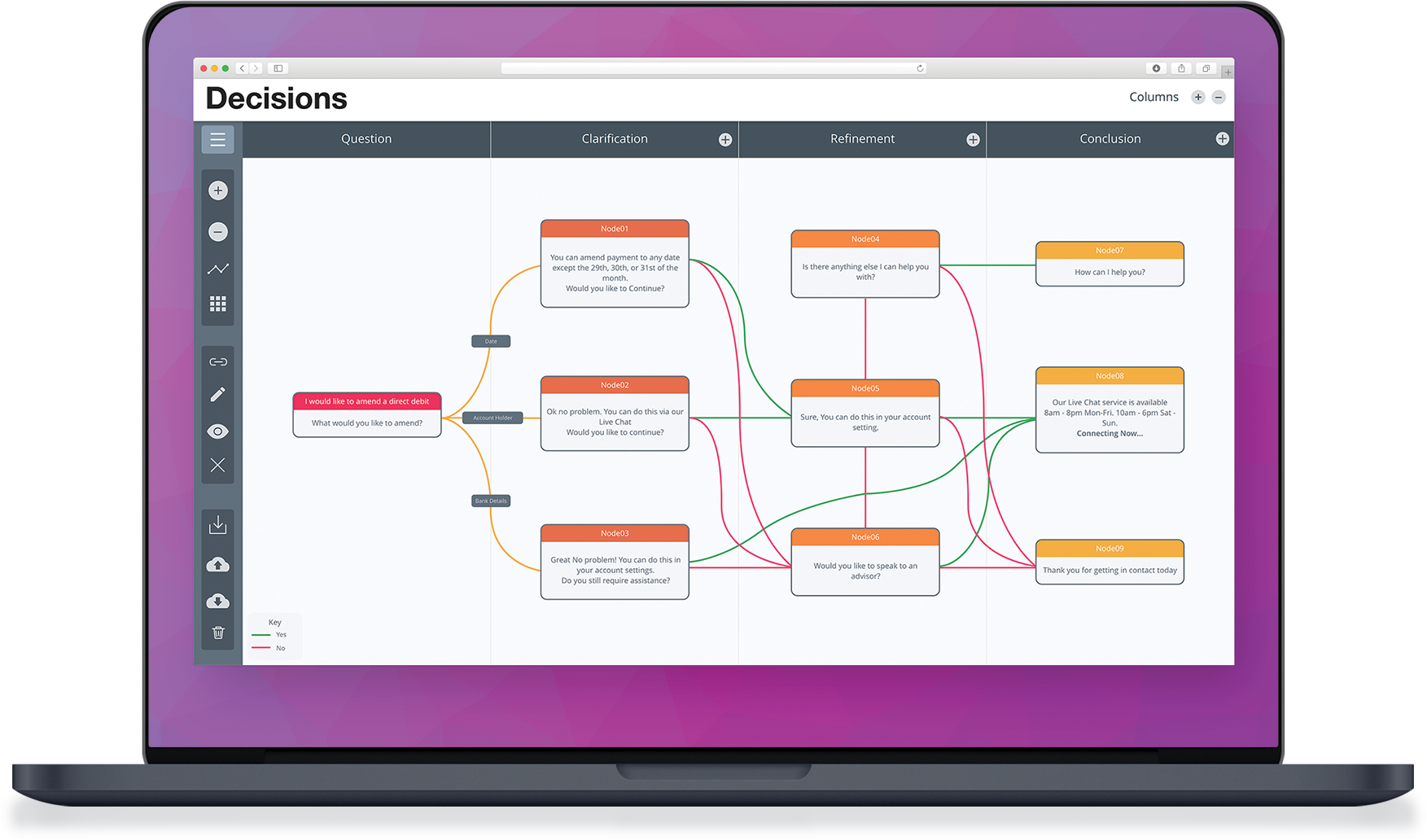 Agent Scripts Are Dead, Long Live Agent Scripting!
Decision trees are the unsung heroes of contact centres. They immediately upskill your newest agent into your most experienced problem solver, allowing managers to build interactive decision trees that agents can follow when talking to your customers. Our flowchart-like approach to agent scripting ensures consistency of information, cuts average handling time (AHT) and boosts first contact resolution (FCR). 
Decisions in Your Contact Centre
The role of contact centre agents is becoming more complex. Self-service tools are automating many of the simple enquiries, meaning the average enquiry is more complex and more challenging. Typically, agents are still relying on outdated scripts that are rarely a good fit for customers with non-standard queries. 
Decision trees answer this problem by adding flexibility, simplicity and effectiveness to agent scripting. Supervisors can customise a series of connected questions that guide agents through complex interactions with your customers. This enables your agents to handle far more complex queries without assistance, costly additional training or years of experience. 
The results are staggering. As decision trees are mostly used as problem–solving tools, first contact resolution (FCR) rates significantly increase, average handling times fall dramatically and information accuracy is improved as your agents will always be using up to date, centrally managed decision trees. 
Decisions on Your Website
Customers have increasing expectations of Self-service. They want the convenience and speed of online channels, but with the accuracy and depth of an agent–assisted one. Traditional FAQ systems are often inadequate to meet these needs, resulting in failed customer service outcomes and costly additional inbound phone calls. 
Decision trees add an advanced layer of functionality to Self-service, guiding your customers through a series of questions to resolve their queries without having to escalate up to an agent. 
Build Complex Decision Trees in Minutes
To hear more about how Decisions are positioning Synthetix clients as industry leaders in CX, get in touch today.