Connect To Your Customers with Live Chat
Improve CSAT scores
Reduce Average Handling Times
Improve First Contact Resolution
Reduction to Average Handling Times
Versus Normal Chat Systems
Reduction in Chat duration
Through Predictive AI Suggestions & Integrated ID&V
Boost Contact Centre Efficiency
When it comes to handling a customer query in the contact centre, it is finding the correct resolution that generally takes the most time.  
Synthetix Chat includes not only an integrated knowledge base so that agents have a library of articles at their fingertips, but AI-predictive suggestions that recommend the most relevant results based on what is being typed. 
Our Chat software's live keypress feed also lets your agents preview what the user is typing before they've hit 'send'. This provides agents with the time to often prepare entire resolutions efficiently.  
More than just a customer service tool, live chat can facilitate conversations and encourage new streams of revenue. By offering assistance at critical touchpoints in the customer journey, cart abandonment is reduced and more sales and conversions take place. 
Simply configure custom triggers so that live chat launches under your chosen conditions – whether it's a particular page or when a certain amount of time is spent there. 
Live up to your customers' expectations when it comes to CX – be there for them from start to finish, whether they land on your site directly and know they need agent assistance or find you through a search engine result.  
All Synthetix's customer service tools seamlessly integrate, working with one another to find your users the answers they need. If a user engages with your self-service portal, widget or chatbot but finds that they require additional help from a human, our technology effortlessly escalates them to live chat, all within the same window for great CX. 
Report on Vital Chat Analytics
Find out how well your team is doing as a whole and individually with our carefully curated Chat analytics. Synthetix's internal chat console lets you view, filter and download vital data surrounding chat volume, chat duration, average answer time, average response time and more. 
Our gamified leaderboards help your agents monitor their own performances in relation to the wider team, encouraging healthy competition.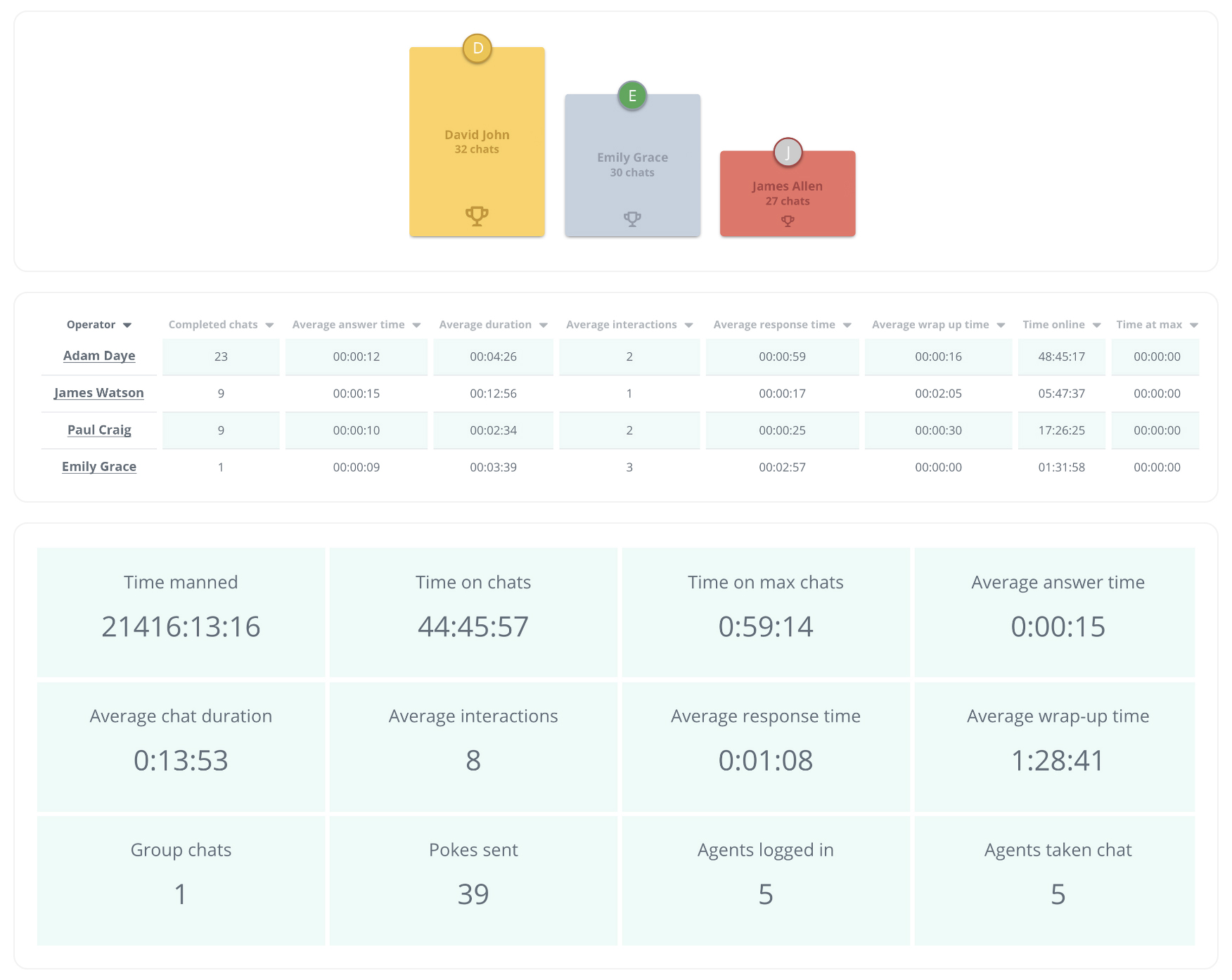 Improve CSAT scores
Reduce Average Handling Times
Improve First Contact Resolution